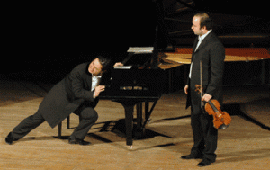 Igudesman & Joo at the Romanian Athenaeum…
Tuesday, 28 December 2010 , ora 14.53

… or about one of music's aims, namely that of producing joy and boisterous chinks. In a perfect interpretation.
The ring of the well known mobile cell phone brand became the leitmotif of the play that opened the programme.
The duel between Mozart's music and the James Bond movie theme had a trailing end – in fact, it did not even start, because both of them had been performed simultaneously – and the sonorous result turned out to be an amazing one.
A Steinway piano that opens with a credit card, whose code – entered by the pianist with his back turned, who covers the ivories with his coat tail, that is the keyboard – is the theme of the Symphony of Destiny. So that this piano may work, you have to play Twinkle, twinkle little star – beginners level and, afterwards, the first five bars from Grieg's Concerto – advanced level.
The performance of one of Bach's Sonatas for Solo Violin under different versions – such as 'à la antiqua', accompanied by the sound made by the gramophone's needle – artificially produced by the sound director. Mozart's Rondo à la turca changed from the somewhat melancholic melody into a soaring one, owing to the utilization of a major tonality instead of the original, minor one, and afterwards performed in a coherent 'Balkan Yugoslav-Oriental Asian-Turkish in a ying-yang Chinese style and Hebrew tai-chi' version.
The All by myself song in which the singer literally bemoans the sorrow of being alone.
I have also found out that the viola is not bigger than the violin – it is just an optical illusion: the instrument is not the one that is big, but rather the violinist's head is small.
Violinist Alexei Igudesman and pianist Richard Hyung-ki Joo performed on Tuesday, December 21st 2010, at the Romanian Athenaeum – you should not doubt that those versions were beautifully performed, with an impeccable technique, musicality and sensibility – when it was needed. For those who have seen Igudesman & Joo on the internet, last night was like – to use an expression pattern, but no less authentic – a dream come true. I did not ask either the former Minister of Culture Theodor Paleologu, musicologist Mihai Cosma, the conductor of the Tonahalle Orchestra from Zurich - George Cosmin Bănică, Taxi band's lead singer, Dan Teodorescu or actor Mihai Bisericanu if they felt the same, or if they would start accessing the Igudesman & Joo site, these being only the ones me and my colleagues - whom joined me yesterday evening, at the Iguadesman & Joo'concert within the Athenaeum – had noticed.
Maria Monica Bojin
Translated by Cristina Neculai and Andreea Velicu
MA Students, MTTLC, University of Bucharest