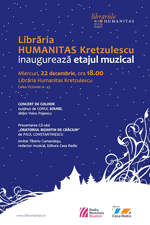 The Humanitas Bookstore has its own musical floor!
Thursday, 23 December 2010 , ora 10.06

Near Christmas a feeling of joy is floating in the air. Those who visited the Humanitas Kretzulescu Bookstore on Wednesday December 22nd 2010 had the opportunity to discover this within the inauguration of the Musical Floor of the bookstore - the place where, from now on, a diversified discography collection will be available. Beyond the shelves where compact disks with mezzo soprano Cecilia Bartoli, pianists Ivo Pogorelich, Maurizio Pollini or violinist Jordi Savall were exposed, from the musical floor the young voices of the members of the Sound choir echoed, lead by Voicu Popescu, invited to perform a carol concert.
And because I reminded earlier of the Christmas atmosphere, I must admit that the musical programme and also the way that it was performed suggested sounds of holiday bells - in carols like Mărire-ntru cele nalte or După datini colindăm by Alexandru Pascanu. At the same time, the assembly lead by Voicu Popescu performed Podobia from the Christmas Byzantine Oratory, Nașterea Domnului by Paul Constantinescu - moment that made the passing through the second surprise of the evening: the release of the most recent disk launched under the Casa Radio Publishing House, with the opposite mentioned, by Paul Constantinescu. Tiberiu Comandasu, representative of the Casa Radio Publishing House spoke about the recording made under Horia Andreescu which had as vocalists soprano Sanda Sandru, mezzo soprano Claudia Codreanu, tenor Ionel Voineag and bass Pompeiu Harasteanu. It's true that the Musical Floor of the Humanitas Kretzulescu Bookstore proved to be overcrowded by the public keen to listen to the Sound Choir's concert, but this time the limited space favoured the communication between the public and the assembly, and the musician's efforts were rewarded properly with customary apples and cracklings.
Alexandra Cebuc
Translated by Bianca Dumitru and Andreea Velicu
MA Students, MTTLC, Bucharest University