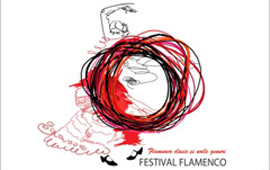 Flamenco, or Multiple Facets of Passion and Melancholy
Friday, 4 February 2011 , ora 8.42

A preview of the Classic Flamenco and Its New Genres festival was held on Thursday, February 3rd 2011, as part of the second edition of the Cultural Days of the National Bank of Romania. The second edition of the festival, organized by the Spanish Embassy in Romania and the Cervantes Institute in Bucharest, is to take place between February 4th and March 8th. The event occasioned a meeting with two first class representatives of Spanish flamenco music at the headquarters of the National Bank of Romania: guitarist Rafael Fernández Andújar and vocal performer Jesús Matias Solano. Thus, for more than an hour, we dived into a captivating and exotic musical world which is, nevertheless, close to Romanian culture due to its Latino spirit.
The evening began with a guitar performance, during which Rafael Fernández Andújar managed to capture a wide variety of human emotions, permanently vacillating between passion and melancholy. The characteristic flamenco rhythms, such as soleá, buleria or fandango, were highlighted through subtle nuances, emphases and string plucking techniques: 'tirando' (for subdued sounds) and 'apoyando' (for resonant sounds). Ranging from the sigh suggested by ostinati rhythmic patterns to the rebelliousness rendered by sudden accumulations of tension in descending musical sequences, Spanish music stages the confrontation between Light and Darkness, Good and Evil, thus bringing to mind the wisdom of Romanian folk tales.
However, it was vocal performer Jesús Matias Solano who offered a complete view over the facets of melancholy in the flamenco genre; unlike the introvert nature of the Romanian 'doina', the Spanish flamenco voices out the anguish to which man opposes like an Oedipus daring to call his Destiny to account.
Alexandra Cebuc
Translated by Ruxandra Câmpeanu and Andreea Velicu
MA students, MTTLC, Bucharest University