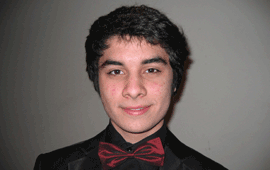 Ionut Cibotariu on recital at the Romanian Athenaeum
Thursday, 3 February 2011 , ora 8.57

The presence of pianist Ionut Cibotariu on Tuesday Night Season at the Romanian Athenaeum, on January 25th 2011, emphasized through several features which are bound, firstly, to a serious training and, secondly, to a native background of rich artistically resources.
The recital program included the Sonata in C major Hob. XVI:50 by Joseph Haydn, The Sonata in G minor op. 22 by Robert Schumann, The Ballad no. 1 op. 23 in G minor by Frédéric Chopin, The Transcendental Study in F minor by Franz Liszt and Sonatina for the Left Hand by Dinu Lipatti. This repertoire chosen with much care from different stylistic areas challenged the young performer not only his virtuosity. Having paid attention to details and detached at the same time, Ionut Cibotariu covered all the musical texts of the program with a notable accuracy, proving a technique of piano playing much beyond his age, referring to his agility on the passages of valour and his ability to master the massive sonority.
Let us remember that Ionut Cibotariu is only a tenth grade pupil and he is in a stage of intense accumulation. At present he is studying at George Enescu High School in Bucharest with his teacher Gabriela Enãºescu, who shapes his gift with intelligence and attachment, a token of it being the Second Award and Dinu Lipati Special Prize, which he received on the National Piano Competition during the Lipati Festivity organized by Radio Romania Music. The sonority of his expressive phrasings entitles us to foresee bright perspectives.
Larisa Clempuº
Translated by Catalina Virvescu and Andreea Velicu
MTTLC students, University of Bucharest