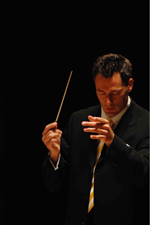 Concert at the Athenaeum with Canadian conductor Charles Olivieri-Munroe
Friday, 11 February 2011 , ora 12.21

Tails or black blouses are the clothes I've seen conductors especially wearing. Canadian Charles Olivieri-Munroe came on the evening of Thursday, February 10th, 2011, confident, smiling and happy to be at the Romanian Athenaeum, in a grey suit that matched a red tie. I do not know if the conductor or the programme were to blame for the fact that this chronicle was written on the notebook on my knees, cramped on the stairs, next to a former college classmate who was holding her three year old baby on her lap.
The first work in the programme - Symphony no. 32 in G major by Mozart, that Mozart envied by Salieri in Milos Forman's film: simple, fair, bright, warm, typically classic, almost predictable - bright and brilliant.
Concert. 2 in C minor for piano by Sergei Rachmaninoff followed; Mihai Ungureanu gave a rather baroque quality interpretation in the sense of a bashfully but telluric performance. The need for a greater sensitivity or for a greater power to imagine the taiga could have been felt, but I would gladly listen to Mihai Ungureanu in a concert of the classical current.
If I had been amazed by the inventiveness of the Saint-Saens in Concerto no. 2 for piano which I listened to at the Athenaeum two weeks ago, I find that Rachmaninov knew the secret of the easiest recipes for composing a hit: the simplicity and clear themes with several notes, very few, a short melody, but a perfect one though, a few sounds that open your ears and soul, which you hum along after you've gone home from the concert.
Finally - Symphony no. 1 by Carl Nielsen, a classic Nielsen without being''a la maniere de...", which did not imitate or borrow rhythmic or melodic formulas, completely original and authentic.
Clearly, an orchestra playing as it is conducted, but only reacting to gestures that control it and to the personality of the person in front of it. Equally clear, Charles Olivieri-Munroe's instrument is the orchestra. Very expressive in a Western style, in a simultaneous relationship with music that he conducts and with the musicians who play it, and to whom he smiled, Olivieri-Munroe demands much, frets, indicates everything that is to be done, draws notes into the air, trembles, carelessly distances himself, moderates, dominates - lives, as they say, the music. He enjoyed our applause - including those of Ionut Cibotariu, winner of the second Prize in the National Piano Competition also participating in the Lipatti Days, organized by Radio Romania Music last November; and he also got the orchestra standing up by parties to be applauded, he also 'got us standing up' by corresponding sectors, but in order to thank us.
Maria Monica Bojin
Translated by Elena-Loredana Pastrav and Elena Daniela Radu
MA students, MTTLC, Bucharest University