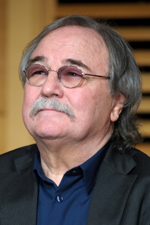 'Rebecca' in Bucharest
Wednesday, 16 February 2011 , ora 9.21

Saturday, February 19th, 2011, I summon you on Romania Music, at 19.00 o'clock, as for one hour we will be together with Levay Szilveszter, the musician who, at the end of the February 7th-13th week was guest of the National Operetta Theatre 'Ion Dacian'. The known theatre will soon act out Rebecca, Levay's musical on a libretto by Michael Kunze, based on the novel by Daphane Du Maurier and made into a movie by Alfred Hitchcock. The staging is that of the Budapest Operetta Theatre, of director Beress Attila.
Levay Szilveszter is more than just an exciting person. He wrote at the age of 30 the famous song Fly Robin Fly, for which he received the Grammy Award. He worked with stars of pop music, with Udo Jurgens, Elton John, Donna Summers and many others. He then remained for 20 years in Hollywood and wrote film music. Scarface, Airwolf, Bambi, Cobra are just a few titles of those that resonate even here in Romania.
Levay went from film music to musical. Together with the lyricist and librettist Michael Kunze, he signed the famous Elisabeth, the musical about Empress Sissi of Austria, and Mozart! obviously dedicated to Wolfgang Amadeus. The duo Levay-Kunze is definitely one of the most famous enterprises from the guild of musical makers of the contemporary world.
This is what the charismatic musician said to me about the tens of interpreters which presented themselves to the selection for Rebecca:
'I was asked to come to Bucharest, to take part to the casting, to the audition of those who desire to be interpreters for Rebecca. I had a wonderful, enormous surprise, because I hoped to find good artists here, but I have never dreamed they would be at an extraordinary level! So I am very happy to find here, in Bucharest, an enormous voice quality. I give my respect to these artists, which learned the most difficult parts of Rebecca, of my music, two, three areas from each role, and they didn't sing under stress, agitated, but with all their hearts. I am so grateful and, I repeat: they have all my respect. Starting from middle of March they will begin the rehearsals with the conductor Berecki Attila, rehearsals for which the preparations are already in progress. '
So, on Saturday, February 19th, I summon you on Romania Music, at 19.00, as for one hour we will be together, to make acquaintance with Levay Szilveszter. Until the premiere at the National Operetta Theatre "Ion Dacian", it would be a good thing to read Daphane Du Maurier's novel, why not , even watch Hitchcock's movie. This way you will be well prepared for the impact with Rebecca... in Bucharest!
Ecaterina Stan
Translated by Anca Toma and Elena Daniela Radu
MTTLC students, Bucharest University