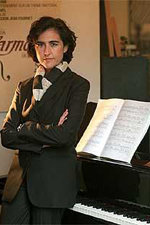 Contraries coincidence in Spanish music
Thursday, 17 February 2011 , ora 13.06

Considered, along with Enrique Granados, the greatest Spanish composers of the 20
th
century, Isaac Albeniz and Manuel de Falla have combined folklore with occidental music elements in their work. Folkloric inspiration is proved by the repetition of melodic themes and there is a paradox here, considering this type of music, namely the traditional one: although it is very well known and thus predictable, it is always listened to with great, honest and insatiable pleasure.
Both Albeniz and de Falla use a special and unique compositional technique, involving the transformation of absonant and energetic sonorities into calm and relaxing sounds, as if the music itself would unwind. The composers also resemble one another because they both transform the piano into an instrument that seems to produce far more sounds than usual; their works are difficult to play because of the multiple, overlapping sound levels, from which one has to extract the main song that is either distant or aggressively present.
Rosa Torres Pardo interpreted at the Romanian Athenaeum, on February 16th 2011, selections from Isaac Albeniz's Suite Iberia, four Spanish pieces and Manuel de Falla's El amor brujo (Love the Magician). These beautiful songs make the listener imagine a dance in which the rumples of a broad dress rotate lively. The same music creates landscapes of deserts or oceans where melancholy embraces you and you feel nothing but loneliness. Sorrow exists in these Spanish songs and it touches everybody, although it is well hidden beneath the fire of the dazzling Spanish rhythms. It brings with it the gray light of a winter morning, the expression of a feeling of dreariness and the bitter taste that every excess leaves behind.
Maria Monica Bojin
Translated by Florentina Cãpraru and Oana Badea
MTTLC, Bucharest University