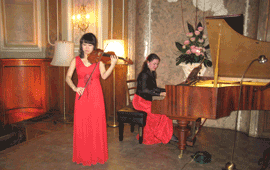 The Pianist Adriana Paler Nicolescu at Salvator Saal in Viena
Thursday, 24 February 2011 , ora 9.14

I would like to present in a few words a Romanian-Korean recital of classical music, which was hosted at Vienna, by the Niederfellabrunn cultural centre, in a music hall in the Viennese district of Mariahilf. This district is well known by musicians as it is the place where Joseph Haydn played and lived during his last years of existence.
A Romanian and a Korean together in a recital
The evening dedicated to music was hosted by the Catholic parish church of Mariahilf in a beautiful baroque hall (Salvatorsaal). The two protagonists were Adriana Paler Nicolescu, born in Brasov, and the violonist Soo-Hyun Park, born in Seoul, North Coreea. Both musicians studied or are presently studying at The University of Music in Vienna, at the demanding section for concertist
instrumentalists. The performers selected for the February 23rd, 2011 audition, universal repertoire pieces such as Beethoven, Debussy and Tchaikovsky, together with several works from the musical culture of their countries of origin.
Therefore, we could listen full of emotion to the Ballad by Ciprian Porumbescu interpreted by
Soo-Hyun Park and Six Romanian dances by Bela Bartok, the latter accurately translated by Adriana Paler Nicolescu.
In a brief prefatory word, Adriana confided to those in the room the initial idea from which the musicians strated to compile the programme, namely the longing.
This feeling, lived by anyone who is away from home, was encapsulated in their vibrations and their songs by the folk singers, it was the source of inspiration for composers like Porumbescu and Bartok, and it also reverberated during the musical moments in the company of Adriana Paler Nicolescu and Soo-Hyun Park, two young ladies already being internationally known for the reliability and charm with which they approached music.
Haiganuș Preda-Schimek
Translated by Anghelescu (Bobe) Anca Maria and Elena Daniela Radu
MA students, MTTLC, Bucharest University