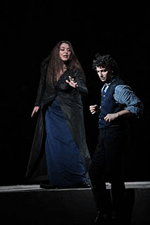 Jonas Kaufmann at the Teatro alla Scala
Thursday, 24 February 2011 , ora 10.02

The Teatro alla Scala in Milan is no ordinary place. Not only the destiny of an opera as much as the destiny of a performer are in the hands of the most demanding European audience, but also the opera performance itself, as a genre, is taken to another dimension. An evening in Milan is a moment of overwhelming passion and intensity to which no one can remain indifferent, even when not everything goes on as perfectly as it should.
For instance, the opera Tosca by Puccini was directed by Luc Bondy and brought from New York and Munich. Here, in Piedmont, the scenery seems familiar. It depicts a military fortress, maybe the one owned by the House of Sforza in Milan, with high arches and frightening towers. It forecasts the repressive political climate and the tragic ending of the love tale between Floria Tosca and painter Mario Cavaradossi. The director wanted a revolutionary Mario, who cares less about love and more about politics. However, music contradicts him. It did especially on Sunday, 20th February, 2011, when tenor Jonas Kaufmann took his role. Without his spontaneous spirit, the evocative power of his voice, the character would be meaningless. In every aria he performs he dives into the emotional complexity of his part with great sensitiveness. His character steps from the shadow of a selfish and adolescent Tosca who was saved only by the singing qualities and the voluptuous timbre of the Ukrainian soprano Oksana Dyka.
Directed by Bondy, Scarpia, who seems to be more libertine in nature, is in fact the most complex character. Baritone Zeljko Lucic mastered all the facets of his role and was accompanied by an authoritarian voice to sing in high register. He turned his character into a human and Machiavellian man that, surprisingly, proved to be appealing to us.
The orchestra - conducted by Omer Meir Wellber, a young protégée of Daniel Barenboim - is as passionate as it is precise. And the acoustic at the Teatro alla Scala takes us to the incandescent centre of the music and offers us a journey of a lifetime.
Alexandra Diaconu
Translated by Raluca Mizdrea and Elena Daniela Radu
MAstudents, MTTLC, Bucharest University