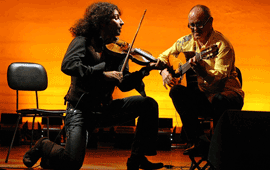 A violin with sparks and an introspective guitar
Thursday, 24 February 2011 , ora 10.21

If one of the missions of the Flamenco and new genres Festival is to become familiar with the Iberian temperament, it most certainly accomplished its mission. But at each concert, we explore more and more profoundly this notion, and surprises do not stop. If by the end of the concert held by José Maria Gallardo del Rey that took place two weeks ago, I was telling myself that flamenco could not be purer than that, on February 21st,2011, at Radio Hall I saw that the limits could broaden. The two musicians who showed how much the flamenco had to offer were violinist Ara Malikian and guitarist José Luis Montón. Last night I enjoyed an incendiary recital and I am no afraid to use this phrase, no matter how much stale it may seem, I do not think it has ever been used in its real sense.
Violinist Ara Malikian, although of Armenian origin, grew up in Lebanon and 15 years ago settled in Spain, where he met guitarist José Luis Montón. The linguistic barrier between them melt soon after they started singing together. Thus, the violinist added a third 'citizenship' to his spirit. And in the recital on February 21st, this citizen of the world unleashed during the recital, proving a stunning temperament. Honestly, I would not have been surprised if at some point some sparks would go off his violin. However one could not say that within this recital there was an accompanist and an accompanied. Because the guitar score, interpreted by José Luis Montón, did not only have the suppport role for wanton violin impetus, but had, in its turn, long fragments where the guitarist could prove his artistry. And José Luis Montón gave voice to the score, proving an introspective sensitivity, winning by depth.
The two interpreted different works arranged in different rhythms specific to flamenco, such as bulería or soleá. The hall was really electrified, so the artists had to play four encores. Two of them were Bach plays they had arranged, I would say or they had destroyed, as they said, on flamenco rhythms. One of these works was the famous Air, whose melodious line was kept intact for violin, the guitar came below with its line. On this occasion I convinced myself about the virtuosity of the violinist, who proved he is as shiny in classical music, as he proved in flamenco.

José Luis Montón:
'It's the second time I have come to Bucharest, I came here in June, last year, for the España show together with a very good pianist, Nacho Prego. The feeling is fantastic, I like Bucharest, this place is wonderful and I feel great. In June I enjoyed an enthusiastic and equally extremely respectful audience, two qualities that are hard to bring together. A very good audience.'

Ara Malikian:
'I discovered flamenco 15 years ago together with José Luis. I studied at the Conservatory, so I have a professional training. When I discovered flamenco, it changed my entire vision on music. I think flamenco is a very rich music, a music inspired from many cultures, that was created from an early age. It left India, passed across Romania; flamenco has a little from each music genre. This is why I think you have many things to learn about music in general, if you are able to listen to and to understand flamenco.'
Petra Gherasim
Translated by Zenovia Popa and Elena Daniela Radu
MAstudents, MTTLC, Bucharest University