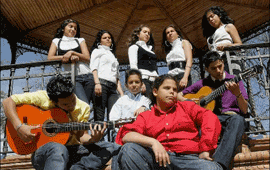 Flamenco Fiesta at ArCub Hall
Monday, 28 February 2011 , ora 11.56

The human voice timbre, the guitar sound and the specific rhythms of the Iberian Peninsula combined in an exquisite show that put an end to the series of musical performances of the Festival for Classic Flamenco and the new genres, the second edition, organized by "Cervantes" Institute in Bucharest and the Spanish Embassy in Romania. Performed in Arcub Hall on February 26th and 27th 2011, the show represented a real flamenco fiesta performed by seven young people from Jerez de la Frontera, a city located halfway between the Atlantic Ocean and the Mountains of Andalusia.
Soniquete - a social project
Soniquete is the name of a band founded in 2007 within a social project dedicated to the young from the poor neighbourhoods in Jerez. For them, flamenco, formerly a music and dance type, has turned into a life style. The show performed at ArCub Hall by the young gypsy - two guitar players and five soloists, among whom one in charge with the rhythmic section within the group, - was a good opportunity to discover elements that are specific to the Hispanic and Islamic cultures, in an enthusiastic and passionate democracy. Soniquete combines the vocal-instrumental song with pop music influences, with dance steps and moves achieved by hand wrists, thus stressing the rhythm by hand clapping.
A range of artistic aspects
From traditional Spanish songs - Trilla and Solea, sung without instrumentation, to dancing songs - Tango and Malagueña, and songs in which the members sing about pain, love, celebrations and even… chocolate, Soniquete shifts from an artistic aspect to the other. Nevertheless, alternating soloistic with group moments - characteristic to the Gitano music - and the frequency of improvising moments impress the audience through intensity, unquestionably one of flamenco's main attributes.
Alexandra Cebuc
Translated by Mirona Palas,
MTTLC student, Bucharest University