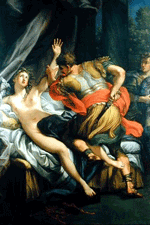 'The Rape of Lucretia' by Benjamin Britten at Theater an der Wien
Monday, 28 February 2011 , ora 12.08

Recently, two operas by Benjamin Britten, Billy Bud and The Rape of Lucretia, have been performed on the greatest stages in Vienna, at Staatsoper and Theater an der Wien. The latter opera bore the signature of British director Keith Warner. It was a performance that was expected and indeed proved to be an event for the last-minute musical theatre.
The need for moral signs
The opera, which I saw on February 25th 2011, drew an audience interested in the new modern assembly and the complex topic of Lucretia, approached by Britten in 1946, that is shortly after WW II had ended. The libretto inevitably depicts the twitches, the confusion, but also the need for purity and unstained moral values of the society of that time.
Sixty years after the London premiere and more than two thousand years after the ancient story of Lucretia had been written by Titus Livius, the tragedy of the noble wife that opposes the erotic advances of Tarquinius, the enemy and the leader of the foreign armies, is certainly regarded differently. Today's scenes overflow with sex, murder and violence. Therefore, how can the history of Lucretia's rape nowadays be put on stage?
The actual history
Neither the music, nor the actual opera, but the assembly awoke interest. Beyond the singers' meritorious performance, the director's ideas were the focus of the attention. Director Keith Warner was surrounded by a team of artists (set decorator Ashley Martin Davis and Mark Jonathan, in charge with the lighting) that set up the stage by assembling sliding platforms moving vertically, horizontally and in depth, which created a simple but very plastic geometry made of square angles and moving flat surfaces. In this space, slowly modified with the ritualistic intensity of ancient performances, the light is projected particularly to individualize and, at the same time, wrap up the stage setting.
Angelika Krichschlager played a passionate and credible Lucretia. Most particularly should be highlighted the distinguished accuracy with which conductor Sian Edwards and Klangforum Wien ensemble reproduced the dense, often discontinuous lines of Benjamin Britten's score.
Haiganuș Preda-Schimek
Translated by Mirona Palas,
MTTLC student, Bucharest University