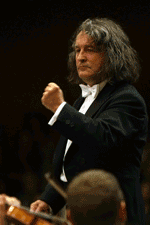 Mozart and Liszt at the Romanian Athenaeum
Friday, 25 February 2011 , ora 12.14

February 25, 2011
In Concerto no. 22 in E flat major for piano by Wolfgang Amadeus Mozart you can find a big part of the Mozart opera composer, so that in many instances the difference between this concert and a poetical creation is just the lack of lyrical voices. Then, the work is almost romantic bliss mixed with melancholy, almost modern with sonorities that make the ear prick up to understand them, almost baroque in weight, heaviness and repetition.
The Mozart Bet
I imagined Mozart in a bet: let's see how music can be written in classical style, elegant but not necessarily too rich in possibilities to express diversity, and how many piano concert themes, each consisting of three parts, you can invent - all equal in perfection, beauty and ability to produce joy. But Mozart would have said full of delight: I propose, let's say, 81. And all of them, with no fireworks, no hassle, no complications - musical or otherwise. As in regard for the soloist of Concerto no. 22 - Ian Fountain, he presented a controlled while in verve Mozart.
The Liszt Bet
It came next a totally different music: 'Faust' Symphony by Franz Liszt, more difficult to digest, far away from the Hungarian Rhapsodies popular songs. The three movements, describing Faust, Gretchen, Mephistophelian have in common themes of dissonant music which leaves you in suspense, like Wagner's music. In the outer parts one feels anxiety, the bitterness and agitation, Liszt divided the orchestra parties so that the sound effect is huge, as if music itself could replicate; by contrast, in the median area the 'Faust' Symphony is sometimes almost chamber like, idyllic, pastoral. In the last movement, the presence of the male choir of the Bucharest Philharmonic and soloist Ionut Popescu, a great voice, warm, but without the metallic feature that sometimes has the tenor voice, made the 'Faust' Symphony by Liszt to have a splendid final.
Concert... with dedication
Maestro Horia Andreescu, who dedicated this work in the memory of the violinist Ion Voicu, held yesterday evening's music in hand with precision and restraint, determination, urgency, gentle turns, insinuating, or imperative.
Maria Monica Bojin
Translated by Anca Toma
MTTLC, Bucharest University