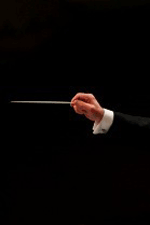 The closing of the project `From apprenticeship to excellence in the conducting practice`
Monday, 28 February 2011 , ora 10.20

`We are at the closing of this project and I can say that only now I have truly fallen in love with it` - declared Conf. Univ. Dr. Lucia Costinescu, the manager of the project, at the end of the concert through which, on February 28th,the project entitled From apprenticeship to excellence in the conducting practice ended. In plain English, it concerns a project with the help of which the students at the choral and orchestral conducting sections at the National University of Music Bucharest, supported by the European Structural Funds from the POSDRU programme, can participate in an useful conducting practice with professional music bands from institutions such as Radio Romania, the Bucharest National Opera and the Pitești, Ploiești and Târgoviște Philharmonics. An extremely good idea, that with the help of European funding has unfolded successfully for two years into this conducting internship with renowned maestros of the Romanian musical scene: Horia Andreescu, Stelian Olariu, Cristian Brâncuși, Tiberiu Soare, Voicu Popescu or Radu Postăvaru.
The concert on February 28th, through which the project ended, represented the materialization of the preparation courses made by six students of the National University of Music Bucharest with the Bucharest National Opera's choir before a demanding jury composed of Prof. Univ. Dr. Dan Dediu, the Bucharest National University's chancellor, Conf. Univ. Dr. Lucia Costinescu, the manager of the project, Prof. Univ.Dr. Mihai Diaconescu, Stelian Olariu, the Bucharest National Opera's choir conductor, Voicu Popescu, the conductor of the Radio Children's choir and Tiberiu Soare, conductor at the Bucharest National Opera. Famous choral pages signed by Giuseppe Verdi, Camille Saint-Saens, Pietro Mascagni and Richard Wagner were interpreted, works that were sometimes musically conducted with emotion, and other times with more assurance by the young conductors.
Typical to any closing, the results are the ones that truly count and especially the fact that thirty-five young conductor trainees had the occasion to improve for two years alongside important names of the Romanian music scene and mostly they had the occasion to assist and work with professional musical ensembles, this is by itself an inestimable benefit, that, we hope, will turn in short time towards the benefit of the audience, of all those who are interested to listen to concerts and shows of the best quality.
Ioana Marghita
Translated by Izabella Feher and Elena Daniela Radu
MTTLC, Bucharest University