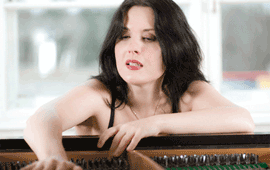 The first CD with Romanian inter-war composers, edited in Vienna
Monday, 7 March 2011 , ora 10.24

Raluca Știrbăț vs. Enescu, Constantinescu and Silvestri
I answered the invitation of the Romanian Cultural Institute in Vienna, which marked 130 years since the birth of George Enescu by presenting a new compact disk. It is all about piano recordings, music written by George Enescu and some contemporaries, interpreted by the pianist Raluca Știrbăț. She is originary from Iași but in 1944 she settled down in Vienna, where she graduated from the University of Music, the Concert Piano Department. On this disc, she performs Suite Op. 10 and Sonata in F Sharp Minor by George Enescu, Concerto Play written by Constantin Silvestri and Toccata «Joc Dobrogean» by Paul Constantinescu - a consistent programme, representative for the classical modernity of our music, interpreted with bravery and fineness.
Gramola House, interested in Romanian composers
The disc is edited by the Gramola House in Vienna - a family enterprise founded in 1924 and specialized in disc distribution, released by great international companies. For the first time in Vienna, as we can see, the Gramola House proved to be interested in producing a piano disc written by Romanian inter-war composers and Raluca Știrbăț is the one who achieved this project. After the two discs signed by Luiza Borac a few years ago in Germany, we confront to a new high-quality disc release in the international music industry, which can contribute to a better knowing of values in the Romanian music.
Courage, hard work and talent
The fact that a pianist who has Raluca Știrbăț's temperamental structure and intenseness wished to specialize in this repertory is absolutely remarkable. Not only the clarity and the expressiveness with which she performs Enescu's scores, but also the pertinent, concise presentation of the plays in the introductive booklet of the disc, show the solidity of Raluca Știrbăț's dialogue with the composers she chose. I hope with all my heart this disc release will be followed by the most of concerts of the interpreter on Romanian great scenes and around the world, because she gives brightness to this music, with courage, hard work and talent.

Translated by Gabriela Moateru and Elena Daniela Radu
MA students, MTTLC, University of Bucharest