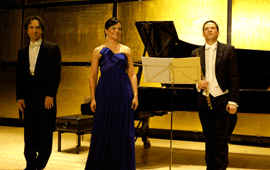 Roxana Constantinescu at Muzikverein
Monday, 7 March 2011 , ora 10.28

On the evening of March 4th, 2011, the audience gathered at Musikverein (Glaesener Saal) met three young musicians, already well-known on the world stages: Romanian mezzo-soprano Roxana Constantinescu, pianist Christoph Hinterhuber and flute player Walter Auer. Their programe, Mit Luft und Liebe, was an original one and comprised complex, dramatic works, as well as pieces ment to cast a ray of light upon the audience.
In a modern yet elegantly designed hall, the artists performed opuses by Franz Schubert, Camille Saint Saens, George Enescu, Albert Roussel, Maurice Ravel and Henry Bishop.
A delicate partner for Roxana Constantinescu
Christoph Hinterhuber, piano teacher at the University of Music and Performing Arts in Vienna, is a passionate performer, but lucid and distinguished at the same time (just like his interpretation of Schubert's Hunagrian Melody in B minor D817 was), and at the same time a delicate partner for Roxana Constantinescu's voice, both for Schubert and for the Seven Songs, based on Clement Marot's poetry. He supported her with a clear insight into Enescu's text and proved a real actor-pianist for Saint Saens and Ravel's works for trios.
Virtuosity, discretion, delicacy
We have admired Walter Auer, soloist at the Vienna Philharmonic, for his virtuosity and impecable fluence in Schubert's Introduction & Variations D 802 for flute and piano, for his vivid and poignant interpretation, for his performance in Cantabile and Presto by Enescu and for his discretion and delicacy while interpretating Ciel, Aer et vents by A. Roussel, a duet for soprano and flute.
Natural with every note
Roxana Constantinescu's presence on the stage of Glaesener Saal, Musikverein, was the main evening attraction, from the very beginning; the young musician, part of the Vienna Opera ensemble, is endowed with a real gift of communicating with the audience. She can enact the specific feelings of each piece, with a perfect intonation and a faithful rendition of the rhythm. The whole audience lived with her each note: she can smile, frown, turn dramatic, tragic, happy, playful, sometimes with a mere look, and change her expression on the spot. Her voice shifts from dramatic and grave to clear and seraphic in Schubert, to a multitude of contradictory moods in Enescu, and reaches the joyfull virtuosity in H. Bishop.
Professionalism...
The endless applause at the end of the performance was rewarded with two encores. The three Viennese musicians offered a professional, welcoming, formal, kind and truly humorous performace.
Sabina Ulubeanu
Translated by Sinziana Mihalache and Elena Daniela Radu
MA students, MTTLC, University of Bucharest