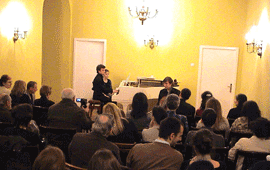 Mihai Ritivoiu andAndrei Ioniță, in a recital at the Cultural Centre of the Republic of Hungary
Wednesday, 9 March 2011 , ora 10.47

Many people who listened to Mihai Ritivoiu three months ago, at the National Piano Competition within Lipatti Days, were stunned at the young pianist's maturity and music intelligence. Thus, on the evening of March 8th, 2011, the recital he held together with cellist Andrei Ioniță at the Cultural Centre of the Republic of Hungary in Bucharest, was no surprise: Mihai Ritivoiu confirmed again he was a valuable musician, with large perspectives and repertoire which allowed him a stunning style diversity and a concern for detail we rarely met at the pianists of his generation.
Michael Ritivoiu and chamber music
Therefore, we rediscovered Mihai Ritivoiu sophisticated during Debussy pages, subtle and meditative during Enescu's music, virtuoso on the two works by Liszt he played in order to celebrate the Hungarian composer and 200 years since his birth.
This time I could also discover an important side of his music activity, as interpreter in a chamber ensemble. His sound turned from consistent and varied to frail, meant to hold and highlight the timbre of the partner instrument - the cello. On the stage, together with Mihai Ritivoiu, there was also Andrei Ioniță, a pupil in the XIth grade at the 'Sf. Sava' National College. The musician studies the cello together with the teacher Ani Marie Paladi, under whose guidance he received many awards at national and international contests.
Large programme, outstanding interpretation
In the recital organized and presented by the music critic Ecaterina Stan, Andrei Ioniță and Mihai Ritivoiu offered a large programme, which included, among others, Variations by Ludwig van Beethoven on a theme from the work The Magic Flute by Mozart, Adagio and Allegro by Robert Schumann, Variations by Niccolò Paganini on a Rossini theme, Habanera by Maurice Ravel and the Méditation from the opera Thaïs by Jules Massenet. It was certainly a difficult programme and Andrei Ioniță showed outstanding technical qualities and interpretation.
Surprise…
At the end, the talented cellist also offered us a surprise: following the long rounds of applause of the people present in the hall, he sat at his piano, besides Mihai Ritivoiu, in order to interpret, as an encore, a work from the four-hand suite Mother Goose by Maurice Ravel. Thus, I witnessed a consistent nice music soirée, in an elegant place which seemed scanty given the large number of music lovers who came for the recital.
Larisa Clempuș
Translated by Zenovia Popa and Elena Daniela Radu
MA Students, MTTLC, Bucharest University