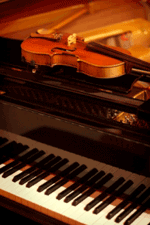 Sensitivity and courage, in a new recital during the Tuesday Evening Season
Wednesday, 9 March 2011 , ora 10.49

The Tuesday recital, on March 8
th
, 2011, in the Small Hall of the Romanian Athenaeum within
Tuesday Evening Season
brought before the audience, through the Cultural Foundation 'Music friends - Antropov Seraph',
Angela
and
Maria Marica
- two young musicians from Cluj who suggested a difficult programme even for experienced artists. And if the works chosen were the first attraction point of the musical evening, we discovered a strong communication between violinist Maria Marica - a pupil at the Music High School in Cluj-Napoca - and pianist Angela Marica - now a student at the 'Robert Schumann' Conservatory in Düsseldorf, since the very first chords of the famous variations theme called
La Follia
by Arcangelo Corelli which showed maturity as accompanist, where the violin was the main interpretation part.
Original music journey
Thus we had the opportunity to travel through music, chronologically, from the Baroque epoch to Classicism and Romantism, up to today. At the same time, we felt, during the piano pages proposed by Angela Marica, influences of jazz music - in the Study 'Pastorale' op. 40 no. 6 by Nikolai Kapustin and the Three works for piano by Francis Poulenc, where we discovered multiple faces of composer's personality - sometimes discrete and broody, sometimes temperamental, eccentric here and there, in a harmonious language intensely chromatic. The geographical style component did not lack: Polonaise de concert in D major by Henryk Wieniawski brought sounds from Slavic music in the fore, while Introduction and Rondo Capriccioso by Camille Saint-Saëns shaped a Hispanic music draft.
Virtuosity at the early age of 12
Besides the sensitivity the protagonists showed, we noticed Maria Marica's strong sound, tone accuracy and clarity - already mastering a very well shaped technique. Certainly the future maturation of her interpretation will complete the virtuosity that is among the violinist's features who is only 12 year-old. Also, the self-poise she showed during the hesitation moments of a difficult score - Praeludium and Allegro by Fritz Kreisler - impressed me. Because - is it not? - art is dare.
Alexandra Cebuc
Translated by Zenovia Popa and Elena Daniela Radu
MTTLC, Bucharest University