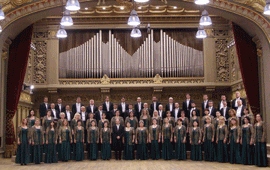 The resonance audience
Friday, 11 March 2011 , ora 13.21

The
Philharmonic
Choir's
Anniversary
The concert which took place on March 10, 2011 also was meant to celebrate the round figure of presence that the Philharmonic Choir "George Enescu" has reached. Stabat Mater by Antonin Dvoűák was the piece of work which they have performed together with the Philharmonic Orchestra, with Florentin Mihăescu as a conductor and the soprano Irina Iordăchescu, the mezzo-soprano Sidonia Nica, the tenor Ruben Mureșan and the bass Marius Manyov.
Celestial music…
Tearing apart the parent's soul, but at the same time the painful resignation to the will of God. First of all, I would like to recall some things regarding the work itself, which I previously had occasion to listen to. It is a pity that it is not performed more often, for it is truly a masterpiece of depth and humility before the destiny dictated by Divinity. Dvoűák composed this work touched by the death of the three children of his within two years. Therefore it is not surprising that the final result was exceptional. Only someone who empathized at the same level with The Virgin Mary, meaning someone who has gone through the ordeal of losing their child, may be able to create a music so profound reflecting…
…Likewise interpretation
The choir sounded great from the beginning when the dramatic accents, skillfully exploited by the conductor, filled the dome of the Athenaeum, turning us all in some resonance boxes, in some receptacles in which the sound was reverberated to its last vibration.
The soloists, in turn, felt the music and have mixed voices in this sigh, both disconsolate and resigned, which is Stabat Mater by Antonin Dvorak. There have been times when I felt that the tenor has failed to assert itself in the orchestra, but the final result was so great that small leaks did not matter that much.
Conductor Florentin Mihăescu successfully made ​​the turn to this force tour, he exploited the utmost expressive potential of each note by leading the orchestra, the choir and the soloists, to a result of an undeniable effect, recognized and applauded at the end by the audience.
Petra Gherasim
Translated by Ioana Florescu and Elena Daniela Radu
MTTLC, Bucharest University