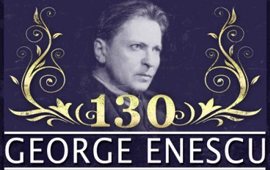 Enescian masterpieces, in the superlative!
Tuesday, 15 March 2011 , ora 13.27

The series of the events dedicated to Enescu's music has begun, as in this year's summer there will be 130 years from his birth; until the 20th edition of the International Festival which wears the name of the great Romanian composer, the "Maria Domina" Cultural Association proposes to the public the meeting with four young musicians, gifted enlighteners of the Enescian chamber music, through a tour that opened on Monday, March 14th, 2011, in the Black Box of the "Ion Luca Caragiale" Bucharest National Theatre.
Virtuosic study with the Dutch violinist Frederiecke Eugenie Saeijs
The musical evening has been opened by the Dutch violinist Frederiecke Eugenie Saeijs, the one who presented his instrument before interpreting the difficult Sonata No. 3 op. 27 "Sonata-Ballade" by Eugène Ysaÿe that the author dedicated to George Enescu: a 1725 Guarneri which belonged to the Queen Elisabeth of Belgium, Ysaÿe's student, and that was probably played by the Belgian composer himself. After she had left the public speechless with admiration by interpreting this authentic virtuosic study, the violinist gave her place to her stage colleagues: the German bariton Birger Radde presented, with the Canadian pianist Ilya Poletaev the "Seven Songs by George Enescu on lyrics by Clément Marot", in a version in which the diaphanous sonorities, specific to impressionist music interwove with the humor of the scenic performance; and Mihai Marica - musician who did his studies in the United States of America - interpreted, also accompanied by Ilya Poletaev, Sonata op. 26 No. 2 for cello and piano, an opus in which George Enescu makes the transition from the discreet melancholy given through the impressionist language with pentatonic accents to themes inspired by the traditional folklore of our country.
Royal with Enescian music
The melancholy of the Romanian soul wrapped in the harmonic refinement of the French impressionism, is felt in each Enescian composition: I had once again this feeling, listening to the suite The Childhood Impression for violin and piano and Sonata op. 24 No. 1, in which the pianist Ilya Poletaev created a sober, dark atmosphere, but pervaded by moments of light, of resolution of tension. This is a suitable end to a royal with Enescian music, which will be also offered the next days in Ploiești, Bacău and Iași.
Alexandra Cebuc
Translated by Gabriela Moateru and Elena Daniela Radu
MA student, MTTLC, University of Bucharest