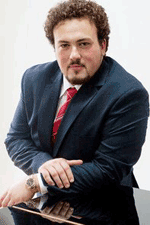 Tenor Stefan Pop in 'Sleepwalker', huge success at the Vienna State Opera
Monday, 21 March 2011 , ora 15.58

These days, Stefan Pop has had his debut in the role of Elvino in 'The Sleepwalker' by Bellini, on the grand stage of the Vienna State Opera, in the oldest production directed by Marco Arturo Marelli. At the age of 24, the tenor has shown that improvement is his continuous concern. He served the score with excellence, with the feeling and intuition of the Bellinian phrase and with sovereign high notes. Stefan Pop has a lyrical, qualitative fascination, and the big win of the study was his performance in mezzo-voice, subtle and graphic, extended up to falsetto to best respond to the vocality of the "tenore di grazia" that the role requires. A great career awaits the artist from Bistrita!
Other Romanian singers on the Viennese stage
Amina was the 34 year-old American soprano Sarah Coburn; brilliant voice with lyrical coloring, her singing well cultivated and with enough ease in reaching her ultra-acute voice textures. Our superb soprano, Ileana Tonca, played the role of Lisa, her voice also light and with gentle coloring. Count Rodolfo received, through the Italian bass Giovanni Battista Parodi, a timbre not so well chosen, rough and cracked. The role of Teresa was played by another Romanian artist, mezzo-soprano Twarowska Aura.
The Italian Evelino Pidò conducted the wonderful musicians of the opera, with good knowledge of Bellinian stylistics. The strings have presented their refinement from the very beginning. Too bad that on the evening of Thursday, March 17, 2011, the chorus was pretty ... lazy in some interventions. Important audience for Stefan Pop, Sarah Coburn and Ileana Tonca!
Costin Popa
Translated by Denisse-Meda Bucura and Laura Bosnea
MTTLC, University of Bucharest