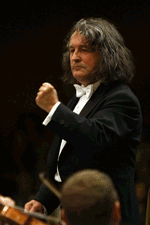 Music, music, music
Friday, 18 March 2011 , ora 16.04

The concert from Thursday, March 17
th
2011, started with a complete silence and ended with deafening applauses. The beginning was owed to the moment of silence that the Philharmonic orchestra from Bucharest requested in the memory of the Japan victims, while the applauses were owed to all the performers during the concert.
Violin and voice - the two dedicated "Vs" of the evening
It started with Liviu Prunaru. He is tempered, assertive, determined to play music until the last sound, to extract it from the violin to its last vibration, an excellent virtuoso without making a case of this, downright harmonic at the solo instrument and clear in the very acute register
.
I listened to him for the first time interpreting
Concerto no. 3 for violin
byMax Bruch, aggressive, bitter and stormy, with sudden changes of state - for the first part; tender, delicate, expansive and nostalgic in slow motion; ironical and fully loaded with power towards the end. All things considered, I have to come back to Liviu Prunaru's violin that "sang by itself" easily, relaxed and full of joy. The very well trained Philharmonic Choir "George Enescu" took part in completing
Sounds of the Ending Century
by George Foca-Rodi, a composer living in the United States. His contemporary music reminding a little of the late romantic period and having the text of the requiem genre, he captured and kept alive the curiosity through music and, surprising but not violent, harmonic changes.
Glorious Ending
The last performance, Tchaikovsky's
Fourth Symphony in
F minor
, who is a different type of romantic than Bruch: his pathos and energy are deeper, the sonority is fuller, more hopeless, the renunciation is more painful and the search is more desperate, the nostalgia is peremptory; the dedication is entire and the victory - final. We cannot forget about the third part, Scherzo-Pizzicato, where Tchaikovsky seems to take a deep breath by returning to the inherent and carelesschildhood. From a psychological point of view, it is hard to sit through before an orchestra with temporary solos and mixed choir for two hours.
Maestro Horia Andreescu, expressive in musicality and gesture, careful and competent as always - conducted Tchaikovsky's symphony without a score - he definitely feels confident in front of the orchestra and he makes the musicians feel comfortable just as easily.
Maria Monica Bojin
Translated by Oana Marina Siliște and Laura Bosnea
MA Students, MTTLC, Bucharest University