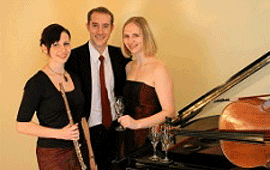 The Trio Frizzante at the Romanian Cultural Institute in Vienna
Monday, 21 March 2011 , ora 16.08

Returning from the concert held by the Trio Frizzante at the Romanian Cultural Institute in Vienna on Thursday, the 17th of March, 2011, I started thinking at the whole preparation work, seasoned with fantasy and a drop of inspiration, that hides behind a, let's say, appealing music evening. Taking into account its name, the Trio Frizzante is supposed to be... sparkling, frothy, full-bodied.
Classic, romantic and... the acoustic atmosphere of the cities
Although all its three members - young performers Marlies Gaugl (flute), Doris Lindner (piano), winner of the 2006 'Carl Filtsch' Competition in Sibiu, and Johannes Kubitschek (cello) - come from the same country as Johann Strauss did (however, not from Vienna, but from Stiria, Lower Austria and Tirol), we did not listen either to waltzes or operetta, but to a cosmopolitan, modern programme that lead me to believe that the performers were well familiar with the beautiful chamber repertoire from the last two hundred years. We listened to classical and romantic works by Adalbert Gyrowetz and Felix Mendelssohn, reminding us all of a form of entertainment very popular in the 19th century, not only in the western countries, but also in Transylvania and even in Bucharest and Iaºi: the music evenings held in salons and private houses. The programme included two works written in the following century by Russian composer Nicolai Kapustin (born in 1937) and Argentinean Astor Piazolla (1921-1992). We also listened to jazz and tango works, to music from the acoustic atmosphere of the cities, from cafés and dance clubs, all part of a fine music embroidery.
Spring atmosphere and distinguished guests
I soon forgot about the persistent rain outside and sipped the sound champagne in the welcoming atmosphere at the Romanian Cultural Institute together with a not very large but friendly audience, softened especially by the spring fresh air of the programme.
The concert was organised by the Alliance of Transylvanian Saxons in Vienna.
Haiganuº Preda-Schimek
Translated by Raluca Mizdrea and Laura Bosnea
MTTC, Bucharest University