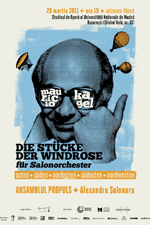 Modern Music at the Opera Studio of the National University of Bucharest
Monday, 21 March 2011 , ora 12.21

A large public and many young people have applauded the entry of the members from the Propuls Ensemble in the Opera Studio of the National University of Bucharest, on Sunday, 20th March 2011. The reason - a concert of modern music; yes, you heard right; people were literally squeezing each other to take a seat at one such concert. Last night, in premiere in Romania, the Propuls Ensemble, conducted by Alexandru Solonaru, presented the first five of the eight works composing the Wind's Rose - pieces for Salon Orchestra by Mauricio Kagel.
Simultaneous order and confusion
This music genre is very nice and very strange. A journey through which the authentic, traditional music of various nations, from the Caribbean to the Cuba and the Andes Mountains, are "placed" on an instrumental device that either expands or compresses music. The acoustic perception is that, although the sounds' height was technically the right one - the finger pushes the chord or the key in the right place - the result comes 'slightly of'. You get the simultaneous impression of order and confusion, as if ordinary, daily activities were performed by someone who lost his balance - just like some characters in the short story 'The System of Doctor Tar and Professor Feather' by Edgar Allan Poe: an apparent normality under which something surprising makes its way out, not properly right.
Unusually harmonic product
Wind's Rose by Mauricio Kagel made me feel at times that this is the way music was created when people just got their instruments; they were still new and people didn't have much of an idea for how to use them. Sometimes you could hear very beautiful individual melodies with more unusual harmonic, rhythms of ritual African dance, tarantella or cafe-concert sounds.
The Propuls Ensemble, composed of 10 young musicians and its conductor, Alexandru Solonaru, were applauded at the end of the concert, recalled on the scene and cheered. They deserved all this for the interpretation of modern music, which seems easy to do, but it's actually a very difficult thing.
Maria Monica Bojin
Translated by Anca Toma and Laura Bosnea
MTTLC, Bucharest University