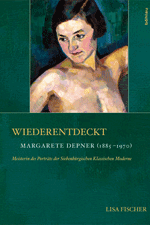 Editorial Event with Music by Paul Richter in Vienna
Wednesday, 23 March 2011 , ora 12.36

The event which we attended on Tuesday, March 22th 2011, I think can, without making any exaggeration, be named a celebration of both the German community in Ardeal and of Romanian culture in general; a feast with a dose of sensationalism in the story that preceded it.
Margarete Depner
In the attic of a house in Brașov, numerous works of the painter Margarete Depner have been kept for decades, in high piety, without any public knowledge of their existence.Margarete Depner was born in 1885 and died in 1970 in Brașov, were she lived. The original paintings, graphic works and sculptures have been entrusted to an author in Vienna, Lisa Fischer, who, starting 2007, began returning these almost unknown values in the history of Brasov to the public.
Paul Richter
The musical pages signed by the painter Margarete Depner's nephew, the composer Paul Richter from Brasov (1875-1950) are also very little known today; a musician who was appreciated by George Enescu and was an extremely active cultural factor in Brașov in the years between the two world wars, whose collection of documents is also pending a return while being kept by The House of the Mureseni Museum ( Muzeul Casa Mureșenilor) in Brașov. Between the brief speeches of Walter Rothensteiner, the president of Raiffeisen Bank, who sponsored the project, the ones of Mr. Silvia Davidoiu, Romania's ambassador to Vienna and of Lisa Fischer, the author of the book, we had the pleasure of listening to the Quartet no. 2 in D Minor by Paul Richter played by a band from Sibiu.
Cultural Closeness between Vienna and Brașov
Kurt Philippi, Melinda Béres, Anna Dénes and Margit Kardos being the members of the Sine Domine Ouartet, its interludes were carefully prepared, carrying us in the musical atmosphere of a past Brașov. The alert pen of the profound composer, Paul Richter, made us feel the historical nostalgia of the German-Austrian music: Reger's greatness, or old Beethoven's solemnity, the sentimental, danceable melodic of the folk music from the outskirts of Vienna. Throughout this entire event, I felt a vivid dialogue between past and present. And we can only rejoice at the thought that, for the time being, the cultural-geographic distance (or closeness) between Vienna and Brasov is seen with a higher degree of willingness than it had been in Margarete Depner's time, a time marked by World Wars, Nazism and Communism.
Haiganuș Preda-Schimek
Translated by Anghelescu (Bobe) Anca Maria and Laura Bosnea
MTTLC Bucharest University