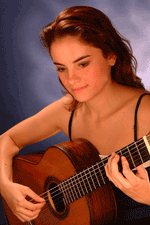 International Guitar Festival, at its end
Thursday, 24 March 2011 , ora 11.24

The fifth edition of the International Guitar Festival ended on Wednesday night, 23 March, 2011, at Mihail Jora Studio - a room that has seldom seen such a crowd. The last concert of the week brought Croatian guitar player Ana Vidovic in our country for the first time. She played the Concierto de Aranjuez by Joaquín Rodrigo, accompanied by the Romanian Radio Chamber Orchestra.
Contrasts
The night - led by conductor Dan Rațiu, a musician currently living in Hanover - started with an opus for chamber ensemble by Adrian Rațiu, Impresii, practically unknown to the public. With the help of a group of musicians - three woodwind players, two percussionists, a piano player and a chords quartet - the piece created a dark, sober atmosphere, in which contrasts with the moments of agony - rendered by the kettledrum and the bass drum - are only evident in nuances and rarefaction of audible events - the marimba and the xylophone hid the tension, rather than just suggested silence. Perhaps to sweeten the taste left by this piece - very expressive, especially towards the end, when it resembles an indignant question - the program also included Franz Schubert's Symphony No. 3 - sparkling with youth and exuberance.
Climax
Judging by the intense handclaps, guitar player Ana Vidovic was the climax of the concert. The young Croatian musician impressed us with the obvious ease with which she performed very difficult bits, her clear sound and accurate tune, although she lacked the Roman passion. A well-deserved success, in front of an enthusiastic audience, which, maybe in the future, will try to make it on time and know not to clap between symphony parts.
Alexandra Cebuc
Translated by Gabriela Lungu and Laura Bosnea
MA Student, MTTLC, University of Bucharest