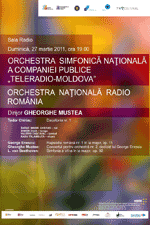 Twenty years later…
Monday, 28 March 2011 , ora 11.27

Two decades ago, the National Symphony Orchestra of Public Company "Teleradio - Moldova" from Chișinău - ensemble established in December 1989 and aimed at promoting the Moldovan music - held a concert on a Romanian stage for the first time, namely, at the "Mihail Jora" Hall. The same venue was selected to host the concert given by the Bessarabian orchestra on Sunday, the 27th of March 2011, to celebrate the anniversary: the music evening was broadcast live on Radio Romania Music and Radio Iași and on TVR Cultural and "Teleradio-Moldova" in Chișinău . The date of the concert, the 27th of March 2011, was not chosen randomly either. 93 years ago, on the exact same day, Bessarabia united with Romania.
Music inspired by Romanian folklore
Besides the Symphony No. 7 by Ludwig van Beethoven, the music programme conducted by Gheorghe Mustea was entirely dedicated to the music inspired by the Romanian folklore - from both sides of the Prut river: the first Romanian Rhapsody by George Enescu was performed together with the National Radio Orchestra in an exquisite version, full of tempo contrasts, in which, from the agogic point of view, the clarinet-oboe duo, in the beginning of the work, contrasted with the sound of the trumpets in the Ciocârlia. The Concert No. 2 for orchestra by Gheorghe Mustea - work dedicated to George Enescu - reinforced the impression left by the Enescian rhapsody through a series of common elements, such as the harmonic modalism and the pastoral character of the themes.
Traditional music instruments in foreground
However, the highlight of the music evening was the Dacophony No. 1 by Tudor Chiriac - an opus quasi-unknown to the Bucharest audience - a music embroidery of the timbre of certain traditional music instruments: the violin played by Radu Tălămbuță, the pan flute played by Marin Gheras, the tárogató played by Simion Duja and the cimbalom played by Valeriu Cașcaval - accompanied by wood wind instruments in the high register and by string instruments in the low register. A high-class concert that combined emotion with passion, and doina with dance.
Alexandra Cebuc
Translated by Raluca Mizdrea and Laura Bosnea
MTTLC, Bucharest University