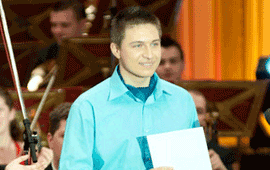 Cellist Ștefan Cazacu in the opening of the recital series 'Great musicians of the future'
Tuesday, 29 March 2011 , ora 13.46

The recital held on Monday evening, the 28th of March 2011, strengthened my conviction that Ștefan Cazacu will be one of the Great musicians of the future. Actually, he already is a good musician and the aforementioned recital stands as an absolute proof. Cellist Ștefan Cazacu, who is only seventeen years old, opened the series of the concert-programmes entitled Great musicians of the future, organised by Radio Romania Music in collaboration with the Peleș National Museum in Sinaia and the 'George Enescu' National Museum.
Serious, concentrated, bursting with energy...
I heard Ștefan Cazacu play last year as well, during the Eurovision Young Musicians competition, which, incidentally, he won with an extraordinary work which captivated the audience. On Monday, at the Music Hall of the Cantacuzino Palace I had the opportunity to discover a young man full of energy and spirit that delivered his musical message using a very precise technique that deserves all the praises. Extremely serious and concentrated on performing the opuses included in the programme, he demonstrated an extraordinary ability to synchronize with pianist Raluca Cimpoi-Iordachi, a very refined musician herself, who accompanied him throughout the recital. Of course, this recital proved to be a success also due to the hall that hosted the event, as its acoustics helped the sound to echo harmonically.
Perfectly evoked contrasting feelings
I wish to emphasize the ease with which Ștefan Cazacu passes from one genre to another, from classic but stormy Beethoven to the deep melancholy of the
Autumn Song
by Tchaikovsky, and then from an alert
Scherzo
by Wieniawski, back to melancholy in the
Vocalise
by Rachmaninov, for him, in the end, to shine in the
Concert Polonaise, Op.14
by David Popper. Of course, there was an encore - the
Flight of the bumblebee
by Rimsky-Korsakov. Ștefan Cazacu performed two other works, which I want to talk about in the end, so as to properly insist on their importance: they are the
Nocturne et Saltarello
by George Enescu, two magnificent opuses that have been left aside for a long period of time. The
Nocturne
alone is highly impressive through its expression and the quiet grief that smoulders in a work of heartbreaking tenderness.
Recital broadcast on Radio Romania Music
The recital was hosted by Ecaterina Stan, who is also the coordinator of the project. Ștefan Cazacu himself will 'speak', certainly better than I would, through music on Tuesday, the 5th of April, when this recital, which you ought to listen to, will be broadcast on Radio Romania Music, starting at 19.30. Yes, it is my strong belief that Ștefan Cazacu will become a great musician in the future.
Petra Gherasim
Translated by Raluca Mizdrea and Laura Bosnea
MTTLC, Bucharest University