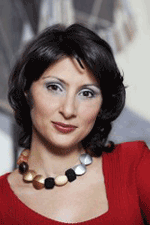 Ileana Tonca's successes at Vienna
Tuesday, 29 March 2011 , ora 14.11

Soprano
Ileana Tonca's
star begins to shine ever more promising. She was born in Brasov, graduate from the Bucharest Conservatory, class of Georgeta Stoleriu and since 1999/2000 she has been a member of the Vienna State Opera Ensemble. I dedicate this correspondence to our brave compatriot for two well-founded reasons, I believe.
Favourable reviews in the Viennese press
First of all, I want to point out the favourable comments that have been addressed to her in the specialised Viennese press for the "Lisa" part in La Sonnambula by Bellini during which she debuted in March. During the same show, under the baton of Evelino Pidó, expert conductor in the belcanto Italian repertoire, the critics have also appreciation tenor ªtefan Pop for the leading part of Elvino; these facts have been discussed on Radio Romania Music, so do I not wish to insist anymore.
The daily Die Presse writes that she "had a great vocal and theatrical performance " (Walter Weidringer); another opera newspaper appreciates her stage presence in the not so simple role, during which she sang two difficult arias and " she masterfully got over the difficulties, except for some slightly thickened high notes" (I quoted journalist Dominik Troger's opinion, from Oper in Wien). Finally, the contemporary opera magazine, Der Merker, writes: "There are many positive things to be said about Ileana Tonca. I listened and I saw her in the role of Lisa, the disappointed criticaster of Amina. Lisa is a not small role and at all secondary. She exceptionally interpreted both arias and was also persuasive during the more complex parts. We have what to expect in the future from this artist, whose qualities are beginning to be recognized." (Signed by Elena Habermann).
Complex program under the sky of the lyrical springs
Secondly, I wish to mention the lied recital held by Ileana Tonca on Friday, March 25th, 2011 at the Musikverein, at the Glass Hall (Gläsernersaal). The program opened with songs on the lyrical springs' sky, by German poets: Eichendorff and Heine, Rückert and Hartleben; it then continued with Arghezi, Clément, Marot and others. A journey that, as you can imagine, has given us the opportunity to attend some musical encounters with Mendelssohn, Schumann and Mahler, Gabriel Fauré and ... surprisingly ... with Mihail Jora and George Enescu.
Therefore, a more complex performance than is usually heard. Moving from the German Biedermeier's intimate poetics to the dreamer Gabriel Fauré, the singer interpreted songs written by musicians like Fanny Hensel (the sister of Felix Mendelsohn, four years older), Clara Schumann, Robert Schumann's wife and Alma Schindler-Mahler, Gustav Mahler's wife and at the same time life partner, friend and muse to many other artists in the first half of the twentieth century. But that is not all; Ileana Tonca performed a rare George Enescu play Chant indou (Indian Song), with lyrics by Géraldine Rolland, a mingling of French Moldovan and Bengali spirit. I also listened to some important plays of the genre: two of the Seven songs on Clément Marot's lyrics (Languir me fais and Aux damoyselles paresseuses déscrire a leurs amys) and If I were God (Si j'étais Dieu) on lyrics by Sully Prudhomme. A special interpretation was given to Three Songs on Tudor Arghezi's lyrics op. 16 by Mihail Jora between the lieder by Mahler and Fauré. Here Ileana Tonca played with the lyrics' musicality, placing them like they were on a string of pearls, out of which, occasionally, there were some more bulgy, more stained or crooked.
A successful evening with well deserved applauses
Ileana Tonca has the clear voice of a lyrical soprano, which she handles precisely and with ease. She has humour and she understands what she is singing, a quite rare quality, among some other colleagues. She has a rather modest appearance, with gestures not so wide but sharp; she is careful to her expression, to her mimic, but her obviously carefully prepared body language is natural, discreet, avoiding the pompous "diva" style. She synchronized wonderfully with the pianist David Aronson, a skilful assistant (in the good meaning of the word) at the Vienna State Opera. Surely, half of the evening's success was due to him.
I was happy to see that, alongside the international and fastidious public at the Musikverein, there were also some compatriots, among which Mrs. Ileana Cotrubaº. There were two encores, much applause and in the end, at the door of Ileana Tonca's dressing room, people who were waiting to congratulate her had formed a queue of over 20 meters.
Haiganuº Preda-Schimek
Translated by Oana Marina Siliºte and Laura Bosnea
MTTLC, Bucharest University