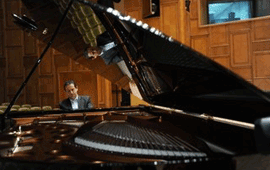 LISZTeria and The traveller piano or a touring soLiszt
Friday, 1 April 2011 , ora 11.41

1846. Illuminated buildings in his honour. Balconies full of flowers. The music lovers from Cluj, Timișoara, Arad , Iași and Bucharest were ecstatic, hardly holding back their emotions and anxiety for listening to him. Flower arcades were brought, on which were written messages of welcome. You didn't figure out who he is? I will give you a clue: it is the Liszt year. Yes, it is the pianist and the composer Franz Liszt, who, between the years 1846-1847, was touring in Romania, where he caused a real hysteria, as we named it today , between the Romanian intellectualof the time. More than 164 years from that event, the well known pianist Horia Mihail decides to re-launch his solo career, following Liszt.
Social coordinates
'The travelling piano' is the name of the tour which takes place between April 1st and 21st 2011 and the official launch was on March 30th,at Cesianu Palace in the centre of Bucharest. Why travelling? Because, as Horia Mihail already inured us during all the events he organised, he added a social coordinate to his project. There are concert halls in Romania without any functional pianos that an artist can play. In these cities, there is a numerous public, interested in what we call classical music; so Horia Mihail starts on a road, not alone, but with a piano with which he will play in five cities which don't have such an instrument: Hunedoara, Deva, Alba Iulia, Dumbrăveni and Mediaș, where Horia Mihail will say goodbye to his travelling piano, leaving it to the local community. This is the second phase of the tour, which sights twelve cities, because on the first phase Horia Mihail will play in seven cities which already have a piano: Sibiu, Brașov, Cluj Napoca, Baia Mare, Târgu Mureș, Iași and Bucharest. Liszt also concerted in Romania with his own piano, an Erard which he always carried with him everywhere he had to perform.
The first steps
The press conference meant to open the tour was really glowing. It took place at Cesianu Palace, in a fairytale background which immediately created the proper atmosphere, evoking the nobility of the boyars from the old times. The tour organised by Horia Mihail is enjoying not only a very good visibility, but also of a great support. They came to speak with the journalists; the pianist Horia Mihail , Andras Istvan Demeter, General President-Director of Radio Romania. Those who were present at Cesianu Palace had seen a piece from the programme which Horia Mihail will perform in the twelve cities. It is the Franz Liszt works Chapelle de Guillaume Tell, Valse Caprice nr. 6 from Soirées de Vienne, Liebestraum and, at the end, a stunning and overwhelming in force Mazeppa.
We will end here; without recommending you to follow Horia Mihail and his Travelling Piano. A! Almost forgetting to give you the good news: 'The Travelling Piano' tour will be retaken in the next two years.

At the end of the official opening of the tour, we are talking to Horia Mihail, the main character:

I read in an interview of yours that you speak about '' Liszt-mania'' and you associate the ''Liszt'' phenomena with ''Beatles''. What is so revolutionary about Liszt's music?
I have to say it is a quotation; ,I don't know where I took it from; I wasn't the first to make this comparison of the two phenomena, but it is really called ''Liszt-mania''. Because there was a big number of admirers who simply adulated him, following him in his tours, wanted to talk to him and have his autographs, had the same actions, conserving the proportions - we are talking about the first part of the 19th century, not about the '60s, what happened with The Beatles, when the society was different.
Liszt revolutionized the piano and music in general as a man, firstly through his fantastic capacity from a technical point of view, secondly, from the musical expression, having a very special life. He played as a soloist until the end of the 1840s. Then he dedicated himself exclusively to composition. It is very interesting that many of Liszt's works announce genres which appeared later: Impressionism, very often, and sometimes Expressionism...From this point of view, he is a composer who can be performed and gives joy the moment he is played; at least, he gives me a lot of joy, but also difficulties, because, most of the times, I have a technical point of view...

Demonic?!
Yes, I could even say demonic.
Petra Gherasim
Translated by Elena Enache and Laura Bosnea
MTTLC , Bucharest University