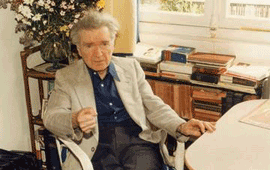 The centenary of Emil Cioran's birth at Vienna
Friday, 8 April 2011 , ora 11.45

On April 8th, 2011, Emil Cioran would have turned 100 years old. A centenary that has not gone unnoticed in the Austrian capital, where, in the ORF (Radiokulturhaus, Großer Sendesaal) radio transmission room, on Thursday evening (April 7th), was held a concert preceded by a short film and talk shows. Among the performers, there were: "The 20th Century Ensemble", conducted by Peter Burwik, also Peter Kampits, former dean of the Faculty of Philosophy from the University of Vienna, Mădălina Diaconu, Docent at the Faculty of Philosophy from the same University and composer Franz Koglmann. We have heard and seen Cioran all over again during some excerpts of conversations with Gabriel Liiceanu in 1990, a documentary known as Apocalypse according to Cioran. Among the organizers, there are the Romanian Cultural Institute in Vienna, Vienna Music Gallery (Wiener Musik Galerie) and the Romanian-Austrian Society.
Writing as a therapy
The obsessions in Emil Cioran's writings have been discussed: contradictions' voluptuousness, the rejection of any ideology and his radical skepticism. Cioran's report with the Iron Guard, seen by the author as a "stain of shame" from his youth, was also discussed. Starting from interview statements, comments were made on his morbid despondency and his writing seen as therapy. I also heard something about the elitism of boredom and about illusions.
What if, by his stylized abyss, Cioran has cultivated for himself a "picture" of a writer? The idea was supported by Mădălina Diaconu, which was cautiously approved. Mădălina Diaconu also spoke about Cioran's publications in Romania, about the complexity of Vulcănescu, Cioran and Noica's generation, about the difficulty of judging writings such as Romania's Transfiguration that I learned from the discussion, Mădălina Diaconu analyses with her students at the Faculty of Philosophy from Vienna.
Music inspired by Cioran's writings
The evening ended with the interpretation of the play Umblete nocturne (Nocturnal Walks) by Franz Koglmann, a play performed for the first time in Sibiu, in the year during which the city has held the title of European Capital of Culture (2007). The composition starts with aphorisms and Cioran declarations inserted into the music. We are witnessing a dialogue between Koglmann and Cioran, the composer plays the trumpet quasi- solo episodes, episodes which reminded me of the famous The Unanswered Questionby Charles Ives. Koglmann follows Cioran's footsteps or marches along his side and becomes troubled by the same unanswered questions. He imagined the contradictions as discrepancies between patches of classical music and jazz. Clearly structured, even if quite predictable, the song was interpreted with accuracy by the 20th Century Ensemble.
Haiganuș Preda Schimek
Translated by Oana Marina Siliște and Laura Bosnea
MTTLC, Bucharest University