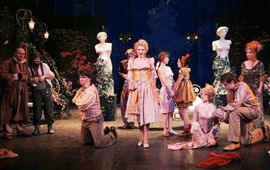 Laura Tătulescu in The Marriage of Figaro in Timișoara
Thursday, 7 April 2011 , ora 12.01

After more than a year after its premiere, The Marriage of Figaro has reappeared on the playbill of the Opera House from Timisoara. Its cast is quite similar to the one that has been in the spotlight the night when it was marvelously directed by Marina Emandi-Tiron, when Geta Medinski conceived the scenic art, proposing simple and suggestive decors and elegant costumes that characterize each character according to its specific features.
Suzana - heavenly voice, conveyed with skill and knowledge
This time, however, Suzana's role has been enhanced by the apparition of soprano Laura Tatulescu, a guest from the Bayerische Staatsoper Munchen, soloist who has taken up this musical score, both in the theatre where she is a prime-soloist and in Staatsoper Vienna, where she has reiterated her success with each apparition, even during her first years of career as a soloist. Beautiful, confident, expressive, with an enchanting, nuanced scenic movement, but most of all, with a heavenly voice, conveyed with skill and knowledge of Mozart's style, with sensitivity and brilliance, fully confirming both the superlative appreciations of the reviews from abroad, and the experience gained while performing alongside the greatest directors, conductors and soloists of the moment, the young artist fits perfectly in with the directive conception. She has built the relationship with her partners in a natural and believable manner because all the performers are young, charismatic; they possess quality voices and scenic talent, managing to build a true team, which has "played" marvelously, singing excellently at the same time. Another advantage was the way in which they balanced their voices in homogenous assemblies, working together and completing one another perfectly, phenomenon which, in our case, only happens in that theatre from Timisoara.
Outstanding performance
This is why all the performers should be praised-Mihaela Marcu is a distinguished Countess, with a beautiful voice, just like Gabriela Varvari who is incredibly likeable as Cherubin; then there is Bogdan Zaharia, a presentable Count with an overall marvelous voice; Sorin Burca brings, in Figaro, his sensitivity and his structural sense of humor, Ramona Zaharia amuses as Marcellina, Octavian Vlaicu does the same thing as Don Bartolo, Cristina Sarb Vlaicu becomes one with Barbarina, alongside Ovidiu Cozma, Mihai Prelipcian and Denis Matei. The choir (instructed by Laura Mare) and the orchestra sounded impeccably, as usual, and the Italian conductor David Crescenzi has once again proven his well known professionalism.
Grand shows
Therefore, I have assisted in a grand show. I also rejoiced in the fact that, after having stirred enthusiasm in Vienna, Munchen Los Angeles, Amsterdam, Tokyo and Prague, preparing impactful debuts in Glyndebourne, London and Paris, the soprano Laura Tatulescu has been invited for the first time to perform in Romania, her only previous appearance at the Bucharest National Opera House, in the same opera by Mozart, being a co-production in which Musiktheater Vienna was involved.
Anca Florea
Translated by Madalina-Ioana Borcau, Laura Bosnea
MTTLC, Bucharest University