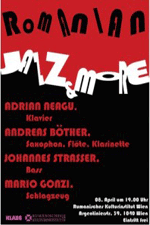 Jazz & more at the Romanian Cultural Institute in Vienna
Monday, 11 April 2011 , ora 12.39

Romanian Jazz & More was the motto under which the Romanian Cultural Institute in Vienna invited, between 2007 and 2009, over 100 Romanian and Austrian jazz musicians to perform together, once a month, on a Friday evening. Those febrile gatherings, known as Friday Night Fever, have earned a public under whose demand the sessions take place again in the spring of 2011, promising to be regular. The first concert took place on Friday, April the 8th, with the participation of Adrian Neagu (piano), Andreas Böther (saxophone), Johannes Strasser (bass) and Mario Gonzi (drum kit).
Passion and experience
The four instrumentalists are recommended by the passion with which they perform and by their experience, of which we may learn a few things by reading their biographies. Adrian Neagu was born in 1953 in Sighiºoara and he may sound familiar to you because in the '70s he was the pianist of the Radio Broadcasting pop orchestra. In 1980 he moved to Germany, then leaving for the United States, where he continued to perform, learn and teach jazz, among others, as a lecturer at Montana State University, and at Fachhochschule in Cologne, where he has been teaching piano and jazz since 2001. German saxophonist Andreas Böther, bass player Johannes Strasser and percussionist Mario Gonzi, the latter two born in Vienna, Upper Austria, studied at Hamburg and in the Austrian capital, collaborated with distinguished artists and theatre people, lived and performed for a while in America, the homeland of jazz.
The energy that captivates
I listened to them performing together with an impressive virtuosity on Friday. In the rather small auditorium of the Romanian Cultural Institute, the sound and energy they transmitted enchained a public of diverse ages, of all ages actually, who watched and applauded them thoroughly. Perhaps they will attract old sympathizers in other sessions as well; perhaps they will gain new ones - the new edition of the jazz festival Hot Romania, which will take place at the beginning of May in Vienna, also promises to be captivating.
Haiganuº Preda-Schimek
Translated by Dana-Mihaela Toma and Laura Bosnea
MTTLC MA Student, Bucharest University