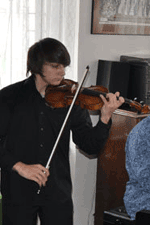 Tuesday Evening Season
Thursday, 28 April 2011 , ora 13.07

The Small Concert Hall of the Athenaeum, a well-balanced musical programme, an overcrowded hall, spotlights, microphones, and the fifteen-years old violinist Aron Cavassi in the centre of attention. This was the atmosphere at the recital organised on April 5th, 2011, within the Tuesday Evening Season.



An appealing and diverse programme

Accompanied by the experienced pianist Cristian Petrescu, Aron Cavassi performed works from the Baroque repertoire – Chaconne in G minor by Tomasso Vitali, from the classical repertoire – Sonata No. 5 in F major (Spring Sonata) by Ludwig van Beethoven, from the Romanian repertoire – Impromptu concertant by George Enescu, but also a virtuous opus – Carmen Fantasy by the 20th century composer Franz Waxman.



Therefore, the young violinist chose an appealing and diverse programme. However, he did not seem comfortable performing either Chaconne or Beethoven's Sonata, leaving the impression that he did not either like the scores or practice enough.



Various performance levels

Aron Cavassi delivered a shy performance that lacked personality when playing these two opuses, but he compensated with more certainty and obvious pleasure when playing the works by Enescu and Waxman. Probably the violinist feels himself closer to that type of repertoire, namely the 20th century one. As a proof, he gave an encore of Banjo and Fiddle, a work highly appreciated by the audience that was written by American composer William Kroll, who passed away in 1980.



Next Tuesday, at the Small Concert Hall of the Romanian Athenaeum you will be able to listen to the Belgian pianist Heyndericks performing works by Schubert, Schumann and Ravel.
Irina Cristina Vasilescu
Translated by Raluca Mizdrea and Elena Daniela Radu
MA Students, MTTLC, Bucharest University