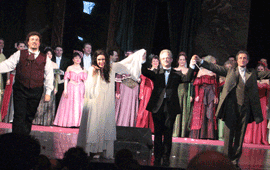 Exceptional 'Traviata' at the Bucharest Opera
Thursday, 28 April 2011 , ora 14.22

A very successful musical evening on Saturday, April 2nd, 2011, on the first national lyrical stage!
In Verdi's La Traviata, under the baton of the expert conductor Vlad Conta, a brilliant distribution met starring Irina Iordachescu, Stefan Pop and Iordache Basalic, all being applauded and cheered by the generous audience of the Opera Hall, full to the brim.

Irina Iordăchescu - sensitivity and refinement.
After a few performances from her highly acclaimed debut, Irinei Iordăchescu's Violetta enriched and strengthened, playing an important role in the career of the soprano. The gentility and sensitivity are emotionally glimpsed through lyrical fragments from the very first sequence, "Ah! fors'è lui…"of the large aria, continues in the second act of " Dite alla giovine "or "Alfredo, Alfredo, di questo core "and culminates, as expected, in" Addio del passato "and the final scene, heartbreakingly outlined. Determinedly, with her impeccable phrasing, clever and twistedly guided, Irina Iordăchescu is a specialist in this kind of expression. It does not mean that she lacks the coolness of the pretentious acutes in the "Sempre libera" cabaletta or the moments of confrontation with Alfredo and his father.
Stefan Pop - huge prospects

Long-expected, the young 24 year-old star, Stefan Pop, finally made his debut in Bucharest. He has that fascinating timbre that promises a great tenor. He masters the naturally melodic spirit of the Italian design, directs sentences with staggering fluency and pathos and gives them strong accents. The impact sound is consistent and charming. The sovereign breath allowed him winged structures as those in the area of the recitative "De'miei bollenti spirit" or the area itself, the passage "... dell'universo immemore Io vivo quasi ...".
Memorably! The acutes are glorious and I can extrapolate, even the cabaletta's final Do, unwritten but traditional note. His Alfredo has a vigorous touch, sound utterance and the awaited colours and nuances did not come into the area, but in the duet "Parigi, a cara", a mezzoforte admirably modelled. Stefan Pop has tremendous prospects and ongoing study will make them come true.
Basalic Iordache - impressive expressiveness

In the role of Germont, the old father, Iordache Basalic added to the safety of his high texture lines and his well-known approach coming from the uniformity of his voice, a soft and tender singing, a touching and impressive expressiveness of all the interventions, duet and cabaletta and area. With the reading provided, the artist has demonstrated an admirable understanding of the character, qualities folded into his lyrical baritone.
With such a wonderful trio, the performance of
La Traviata
was a peak of the current season and beyond. This is what we want for the future of the National Opera of Bucharest. And in addition, we expect Stefan Pop ever.
Costin Popa
Translated by Deniss-Meda Bucura and Elena Daniela Radu
MTTLC students, Bucharest University