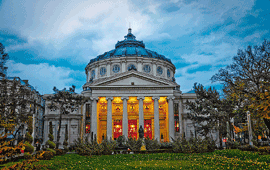 Tuesday Season at the Athenaeum
Thursday, 28 April 2011 , ora 14.52


Invited on April 12th, 2011, at the Tuesday season at the Small Hall of the Romanian Athenaeum was the Belgian pianist Jan Heyndericks, 24 years old.
Good, but not brilliant
The performer chose to present a modern romantic repertoire, which contained large opuses by Franz Schubert and Robert Schumann and a piece of Maurice Ravel's works. Although I can say he impressed me as only a great young artist could, it was a pleasure to listen to Jan Heyndericks, who appeared in front of the audience like a musician who knew and understood his score - with all its aspects: composition style, shape, harmonic atmosphere, dynamic and agogic contrasts.
Preoccupation besides his work
Piano Sonata in A major by Schubert was too little approached, many times with inconsistent sounds, being impregnated with that lyrism specific to Schubert's works. We listened then to the eight pieces of Fantasiestücke, Op. 12 by Schuman, a piece of work where the contrasted characters of Eusebiu and Florestan are found, the composer's alter-egos: Jan Heyndericks performed beautifully and sensibly these contrasting temperaments. In the end, The Valley of bells from the suite Miroirs by Ravel and as an encore Erinnerung - A Memory by Schumann dedicated to the memory of Felix Mendelssohn.
Heyndericks is a musician preoccupied with his art, but who still has to gain fluency in performing.
Irina Cristina Vasilescu
Translated by Elena Enache and Elena Daniela Radu
MTTLC, Bucharest University