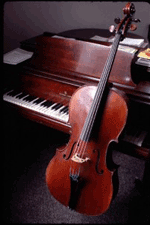 The Chronicle of a Concert which I am really sorry you couldn't attend
Monday, 18 April 2011 , ora 10.31

Spring
Harsh snow. Scratched snowdrop. Vital implosion. Torpid ground. Verdancy. Confused bud. Vesperal breeze. More courageous sun. Latent flowers. Bleu ciel. Falling petals. Unstoppable frenzy. Delirious scream. Lilac. Sparrows at the beginning of the day. Perfume of wet vegetation. Loamy soil. Lilac. Or Primavera (Spring) by Astor Piazzolla.
Summer
It's hot. The tango has gone on for a few hours or for a few days. You don't know, the heat melted your memory. Everything seems dead in Buenos Aires. The red skirt is a defiance in front of the grey which surrounds you. You only feel the sweated palms of your partner. You only see the grey. It's hot? It's the dance dizziness? You only hear the vibe of your steps. The blunt heels top of so much dance stick in the melted asphalt. Every time you move your steps are slower, but they include something more in the tension of the tendons. Grey. Suddenly a drop of silver bites your strained forearm. Another one you throat. Another one sticks on your forehead like a third eye which reflects the constant look of your partner. It's raining. The vapours from the asphalt let go their own tango around them. You cannot see yourself. Or Verano (Summer) by Astor Piazzolla.
Autumn...
...It's only an initiation road which starts with a party. It's the last vital spasm, a swan song, a convulsion before the frost. Dionysus parties with the nymphs while the satyrs are shaking down the trees. It's snowing, but with leaves with grapes. The ice bristles announce the end of the party; there comes a period of penitence, marked by austerity. It's the time of regrets. The blank, the desert and the waiting of the end. Or Otoño(Autumn) by Astor Piazzolla.
Winter
The frost froze all the vital life breath. The blizzard embowels the ground through the most mysterious entrails. The frostiness purifies all the crevices from where life retired terrorized. The heavy icicle which fall from the eaves stab the furrows's garden. Then it snows with big snowflakes. The scuffed face of life is muffled by the snowflakes which fall like a fairytale. From high unmeasured distances, the sun takes an objective squint onto the Earth, like a doctor towards a suffering person who soon will recover. Or Invierno (Winter) by Astor Piazzolla.
Anywhere else
On April 14th, 2011,at the Hungarian Cultural Centre Bucharest, there was a recital performed by the pianist Mihai Ritvoi, the cellist Gabriela Bokor and the violinist Alexandru Mălaimare. I confess that I wrote the above in a moment of inspiration given by their excellent performance. With a such fine timbre the pianist Mihai Ritvoi was the perfect dialogue partner for the expressive cello of Gabriela Bokor and for the tempered violin of Alexandru Mălaimare. It was a dreamlike half an hour and it was impossible not to let yourself teleported anywhere else than in the present.
Petra Gherasim
Translated by Elena Enache and Elena Daniela Radu
MTTLC, Bucharest University