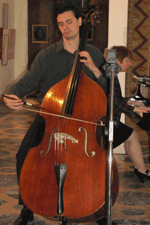 Tuesday Evening Season
Wednesday, 20 April 2011 , ora 10.57

You seldom get the chance to listen to a contrabassist perform as a soloist and like it. Well, the audience present in the Small Hall of the Athenaeum on the evening of April 19th, 2011, experienced this type of moment due to a new Tuesday evening season recital.
A name of future reference
The name of the person who pleasantly suprised us : Răzvan Popescu (a Romanian name, easy to spot for the moment when he will join a great orchestra…). Age : 23 (he has a Master's Degree from the National University of Music Bucharest). Profession : as I metioned, he is a contrabassist, currently concert master of the Romanian Youth Orchestra and of the Jeunesse Musicale Orchestra. Qualities : talent, sensitivity, deep sound, phrasing ingenuity, virtuosity - yes, I am referring to the same contrabassist, Răzvan Popescu, who on Tuesday evening had guests such as cellist Darius Tereu and bass Iustinian Zetea. Thus, it was a low-pitch instrumental and vocal dialogue.
Performance rewarded accordingly
The line-up was Seven Variations on a Theme by Mozart by Ludwig van Beethoven, Adagio and Allegro op. 70 by Robert Schumann, La Sonnambula by Giovanni Bottesini, Duet for Cello and Double Bass by Rossini, and, in the end, Mozart's aria for bass and double bass Per Questa Bella Mano. The three were accompanied on piano by the experimented Viorica Boerescu and Dana Bădoi.
And although the audience was very enthusiastic for no particular reason, the applause received by Răzvan Popescu, Darius Tereu și Iustinian Zetea were fully deserved.
Congratulations from another spectator,
Irina Cristina Vasilescu
Translated by Dana-Mihaela Toma and Elena Daniela Radu
MTTLC MA Students, Bucharest University