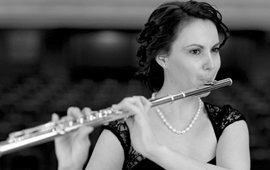 Tuesday Evening Season
Wednesday, 4 May 2011 , ora 11.15

The last recital we attended, before the Easter holidays, within the Tuesday Evening Season was held by the talented bass player Răzvan Popescu, who is now the head of his orchestra section in the Romanian Youth Orchestra; and yesterday evening (May 3rd, 2011) we listened to another musician who plays this valuable ensemble: the flautist Cristina Bojin, accompanied by pianist Cristina Muresan.
The well trained artists presented us some oppuses from the end of the 19th - beginning of the 20th
centuries French music. In the oppening we listened to Syrinx for flute solo by Claude Debussy, followed by "Bilitis" Suite by the same composer, a four-part Sonatine by Stan Golestan and "La Flute de Pan" Sonata from the creation of Jules Mouquet.
I was glued by the chair, unmoved through the entire recital, as the flautist managed to get my attention and keep a vivid interest for her interpretation; an interpretation lacking in technical negligences, extremely accurate, intelligent in its phrasing and dynamics, perfectly consistent with the style required by each opus. Moreover, I appreciated the extraordinary cooperation between Cristina Bojin and pianist Cristina Muresan - the two artists seemed to have met for many times, as I could not notice any hesitation in their dialogue, through the entire recital.
About Cristina Bojin I must say that she graduated from the Academy of Music in Stuttgart, under Jean-Claude Gerard's guidance, and she took mastership classes with Aurel Nicolet, Paul Meisen, Davide Formisano and Andrea Lieberknecht. She is the winner of national Olympiads and International Competition "Jeunesses Musicales", foundationer of "P.E. Förderstiftung für Studierende der Musik - Mannheim" and of the Chamber Music Academy "Villa Musica" in Mainz. Between 2004-2006 she was the principal flautist of the State Opera in Pforzheim, frequently collaborating with "Junge Oper" section of Staatsoper Stuttgart and with Chamber Orchestra of the same German city. In 2008 the composer Sabin Pautza dedicated to her the Concerto for Flute and Orchestra. Cristina Bojin is currently professor of flute at the School of Music "Musication" in Nuremberg.
Judging by the last two recitals which we attended in the Small Hall of the Romanian Athenaeum, I can say that the Tuesday Evening Season entirely deserves to be watched.
Irina Cristina Vasilescu
Translated by Anghelescu (Bobe) Anca Maria and Elena Daniela Radu
MTTLC Bucharest University