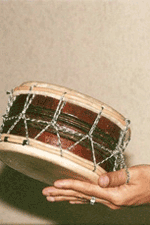 The relationship between music and the trance phenomenon: an intercultural dialogue
Friday, 8 April 2011 , ora 11.44

Larry Francis Hillarian is the name of a researcher hailing from Singapore, who came to our country at the invitation of the National Library of Education "I.C.Petrescu" from Bucharest, institution which proposed in this way the approach to an unusual subject for the East-European cultural space: the role of music within the trance phenomenon as a distorted state of consciousness.
The boundary between prayer and sacrifice
An ancient practice in the region of South-East Asia, situated at the boundary between prayer and sacrifice, the trance represents at the same time the main preoccupation of the ethnomusicologist, composer and professor Lary Francis Hillarian who began to study it about 15 years ago, in the multicultural context of the present Singapore - a conglomerate in which you can find nations like the Chinese, the Hindu and the Malaysian.
The rhythm - the main component
In reaching the estate of trance, music accomplishes a ritual function, in which the main component - which creates the atmosphere through a myriad of variations - is the rhythm, and the wind instruments and the idiophones of the gamelan ensemble - traditional in the extra-Europeans cultures - are the most used.
Why is it important to know such details about the remote civilizations, especially in our days? Because, as Frank Zappa said, "The human mind is like a parachute, it only works if it is open".
Alexandra Cebuc
Translated by Gabriela Moateru and Elena Daniela Radu
MA students, MTTLC University of Bucharest