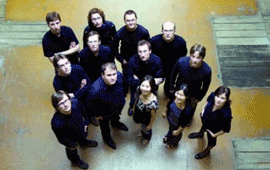 Works by Xenakis, Ligeti and Kurtag brought together in an extraordinary concert at the 'George Enescu' National Museum
Wednesday, 13 April 2011 , ora 12.21

Contemporary works are not everyone's cup of tea, but if well performed, one might develop a taste for them. This happened on Sunday, the 10th of April 2011, at the Cantacuzino Palace where the French Institute organised such an event: the main guests were the members of the Prague Modern ensemble, who performed works by Iannis Xenakis, György Ligeti, and György Kurtag, three composers with Romanian roots: the first was born in Brăila, and the other two in Transylvanian villages.
Young people with clear vision on contemporary music
The Prague Modern ensemble experiment with different music genres, depending on the works they perform. The members of the ensemble are young people with clear vision on contemporary music, which involves having a powerful, well-trained and fresh voice. Soprano Irena Troupova stood out through her extremely homogenous and warm timbre as well as through the intelligence with which she organised her music speech, especially when doing the selection from the work Attila Jozsef by György Kurtag for soprano solo. I imagine that reaching the correct pitch on a song that sometimes resembles the challenging Baroque repertoire, without being accompanied by a piano or any other instrument, is far from easy. My only regret is that I could not grasp the text, not even the songs with verses by Dezso Sandor. I can imagine that they must have been highly lyrical, judging by how the voice of soprano Irena Troupova blended with the lyrics and the melody of the song.
Audience interested in contemporary music works
The last two works, Akea for piano and string quartet by Iannis Xenakis and String Quartet No. 1 Métamorphoses nocturnes by Ligeti proved to be extremely interesting. The young performers showed an incredible team spirit, synchronising perfectly, despite the unpredictable that characterises such works. They all are talented performers, but I have to praise the warm, round and full sound of violist Ondrej Martinovski.
All seats in the Music Hall of the Cantacuzino Palace were taken, contradicting the belief that people are not interested in contemporary music works.
Music and mathematics at the highest level
After sustained applauses and a brief interval, the documentary film dedicated to Iannis Xenakis was played. Xenakis was a complex personality that succeeded in combining music and mathematics at the highest level. He had a hectic life: born in Brăila, he left at the age of 16 to Athens and participated in the resistance movement. Severely injured, he took refuge in France, where he worked with Le Corbusier, and later on dedicated himself completely to music. He applied his mathematics knowledge, creating different graphic composition methods, developing a preference for graphic methods of writing scores. I confess that these methods are beyond my comprehension, but I was impressed by how extraordinarily powerful the link between music and nature is in Xenakis's music.
The event on the 10th of April proved to be a continuous discovery that most definitely enriched the audience.
Petra Gherasim
Translated by Raluca Mizdrea and Laura Bosnea
MTTLC, Bucharest University