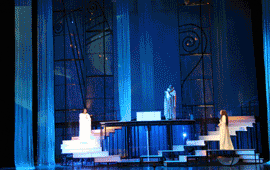 Oedipus by George Enescu - premiere at the Bucharest National Opera
Wednesday, 7 September 2011 , ora 10.41

The Bucharest National Opera presents, within the 20th edition of the 'George Enescu' International Festival, a new production of the opera Oedipus, that will have its premiere on September 15th, at 19.00. Thus, Bucharest's lyrical theatrecontinues the tradition of presenting, at almost each edition of the festival, a new enactment of George Enescu's opera.
The show was staged by the producer Anda Tăbăcaru Hogea and will bring before the audience a part of the most talented lyrical artists of the Bucharest National Opera. Tiberiu Soare will be the conductor, scenography bears Viorica Petrovici's signature, choreography by Răzvan Mazilu, and choir maestro as well as children's choir maestro will be Stelian Olariu and Vasile Corjos.
Opera lovers will be able to listen again to baritone Ștefan Ignat in a leading role, together with Horia Sandu (Tiresias), Ionuț Pascu (Creon), Valentin Racoveanu (The Shepherd), Ștefan Schuller (The Great Priest), Pompeiu Hărășteanu (Phorbas), Mihnea Lamatic (The Guard), Vicențiu Țăranu (Theseus), Mihai Lazăr (Laios), Oana Andra (Jocasta), Ecaterina Țuțu (The Sphinx), Simona Neagu (Antigone), Antonela Bârnat (Merope), Sidonia Nica (a Theban woman).
The journey of the opera Oedipus by George Enescu at the Bucharest National Opera is tightly connected to the journey of the festival which bears the composer's name. The 1958-1959 season was marked by the national premiere of this opera, after two decades since the global one in Paris (1936). The show was presented at the first edition of the 'George Enescu' International Festival, on September 22nd, 1958. The actors' crew was an exceptional one (conductor: Constantin Silvestri, staging: Jean Rânzescu, decors: Roland Laub, costumes: Ofelia Tutoveanu, choir maestro: Gheorghe Kulibin, choreography: Gelu Matei).
During the 1991-1992 season there was a new enactment of the opera Oedipus, which was presented again in 1995-1996, 2003-2004, 2009-2010 (during the latter season it was a co-production Bucharest National Opera - Théâtre du Capitole in Toulouse). All these shows were presented during the George Enescu International Festival.

Translated by Anca Pavel and Izabella Feher
MTTLC, Bucharest University