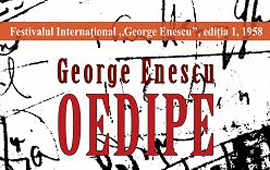 Oedipus by George Enescu: double compact disc and triple editorial release
Friday, 16 September 2011 , ora 11.58

Oedipus - the only opera show created by George Enescu - was brought on Thursday, 15th, September 2011, at the forefront of the 20th edition of the festival named after the composer. The premiere of this new version on the stage of the Opera in Bucharest - as it was directed by Anda Tăbăcaru-Hogea and conducted by Tiberiu Soare - also occasioned the release, under the publishing house "Casa Radio", of a double compact disc with the Romanian premiere of the show - which took place in 1958, part of the first edition of the "George Enescu" Festival.
This record-marking event was discussed by the musicologist and music critic Anca Florea, author of the foreword of the album's booklet. Anca Florea recalled the 1958 premiere of the show - the leading role went, under the guidance of Constantin Silvestri, to David Ohanesian - from the perspective of the newly event album:

"I think it is really an event for which the publishing house 'Casa Radio' deserves all the congratulations. For good reasons, the disk editing of the Romanian premiere of Oedipe - which remained outstanding due to the interpretive version, a benchmark for those who have listened to it - it could not be possible until now. In the brochure I wrote about the first attempt to set up the show - in 1941, when it would have had to be conducted by George Enescu himself. Back then, the Opera Director in Cluj-Napoca was Tiberiu Brediceanu; all the necessary steps have been taken - Enescu had even written to him that the only Romanian version that he accepted was the one by Emanoil Ciomac (the one that was played a long time). Also in the booklet it is included, perhaps for the first time, Enescu's photocopy of the letter sent to Tiberiu Brediceanu referring to the premiere planned for 1941 - right during of the war. Later, Mihai Brediceanu, the son of Tiberiu Brediceanu, took over his father's position, conducting Oedipe for decades - both in Bucharest and abroad. Back to the new compact disc, it combines a number of inedited items for nowadays' audience: I am sure that the interpretation will impress anyone who listens to it."

On the same occasion, in the Foyer of the Bucharest National Opera there were released as accomplishments of the Publishing National Museum "George Enescu" in Bucharest, three editorial materials: a volume of letters in which Enescu discussed the premiere of the Oedipus opera being set up in Paris - a volume edited by Elena Zottoviceanu and Georgeta Băcioiu, a re-edition of the volume by Lucian Voiculescu dedicated to the same show and a new piano adapter by composer Andrei Tanasescu to Enescu's lyrical masterpiece, Oedipus.
Alexandra Cebuc
Translated by Iulia Florescu
MTTLC, University of Bucharest