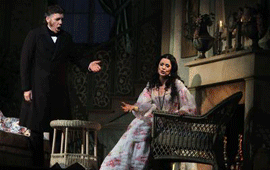 Gounod's Faust: from Covent Garden, live at the National Opera Bucharest
Friday, 30 September 2011 , ora 8.57

In the midst of a highly technological century, the correspondence between two geographical points or two arts is possible. The audience was able to watch on Wednesday evening, the 28
th
of September 2011, for the first time at the Bucharest Opera, a show in live transmission from the 'Covent Garden' Royal Opera House London. We are talking about
Faust
by Charles Gounod, the show being an unseen audio-visual experience, which brought to attention, under the baton of the conductor Evelino Pido, the soprano
Angela Gheorghiu
. Next to her - other two extremely appreciated names in the contemporary opera music: the tenor
Vittorio Grigolo
, and the bass
Réne Pape
.
We asked Cătălin Ionescu-Arbore, the director of the National Opera Bucharest, to tell us if events of this type will reappear in the institution's program:
'The intention, the promises and the proposals to continue the live transmission series, from different parts of the world, do exist - from the Paris Opera, from the Bolshoi Theatre, from Barcelona and Venice. We shall see if these plans will materialize. I hope this event to be a demonstration of the fact that we are able to sustain such an initiative and to accumulate the trust of those who finance these transmissions.'
A critical vision on the event was offered to us by Anca Florea, musicologist and music critique:
'It is truly an event - being for the first time that at the Bucharest National Opera there is a live transmission from 'Covent Garden' and I hope that it is an auspicious start. I think that the presentation of the show on the institution's lyrical stage from Bucharest is a good idea - it is a different setting, closer to an appropriate hall for an opera show (even if, frankly, I prefer the live variant). I had the feeling that everything is amplified, listening to the performers on different stages in the world - that is why I can tell the difference. They are, evidently, soloists of international standards, very good. About the tenor I have always had my doubts - even if he is considered the tenor of the moment and he is very cultivated. It is a very expressive interpretation - I just have doubts about the way in which the characters were constructed. The directing - about that I was told that it is special, has disappointed my greatly, because except the fact that everything is very dark, I discovered several directing and conception mistakes linked to the plot.'
The soprano Bianca Ionescu was also present at the event, soloist at the 'Ion Dacian' National Operetta Theatre:
'The initiative of the live transmission of this show from 'Covent Garden' is something that should have happened sooner; concerning the quality of the voices I came to listen to something I already know, and the productions from this area in that these artists of the lyrical stage activate offer us at each occasion more and more pleasant surprises. This time, I was surprised by the novelty aimed attitude, which has to continue and adapt something that already exists.'
In the representation directed by David McVicar, the soprano Angela Ghiorghiu has embodied an angelic-glib Margaret, the tenor Vittorio Grigolo was an impulsive and rather senseless Faust, and Réne Pape - a convincing Mephisto, waggish and at the same time diabolic, who reminded me, because of his costume, of the Puss in Boots. The presentation of the show will continue in the 'Covent Garden' Opera's season; we also hope for the collaboration of the Londoner lyrical institution with the Bucharest National Opera to continue.
Alexandra Cebuc
Translated by Izabella Feher
MTTLC, Bucharest University