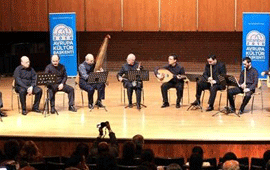 The Old Music Band BezmÔrÔ - at the Romanian Cultural institute
Monday, 3 October 2011 , ora 9.47

The fourth musical gathering in the series
When Byzantium Was Us
took place on September 21
st
, 2011, in the building of the Romanian Cultural Institute in Bucharest, with the attendance of the old music band from Turkey,
BezmÔrÔ
. The recital, generically entitled
Cantemir's Era
, featured works by Dimitrie Cantemir, but also other works, signed by his predecessor, Ali Ufki. Through them, the numerous audience present at the Romanian Cultural Institute was offered a real trip within the music that was interpreted during the 16
th
and 17
th
centuries at the Ottoman Court.
Here is what Bekir Baloglu, one of the members, stated about the BezmÔrÔ ensemble:
"The idea of founding it belonged to Fikret Karakaya, who is also a very good musicologist, a researcher of old music. He studied the works of Ali Ufki and Dimitrie Cantemir, very special and emotional melodies, which - I hope - will be appreciated by the Romanian audience. Fikret Karakaya is also a violinmaker, he creates musical instruments after miniature pictures from that time; he is also my teacher and a very important person to us, the musicians in this ensemble."
Created in 1996, the BezmÔrÔ band started performing on stage in 1998, after two years in which Fikret Karakaya worked on the reconstruction of the instruments used at the Ottoman Court. Among these are the cheng - an Oriental harp, or the chekhroud - a bass lute. The musical style is not based on harmonic linkages, but on a horizontal speech, in which the ornaments specific to each instrument contribute to the creation of frequent moments of heterophony. The performance fully reflected the passion with which the musicians in the BezmÔrÔ band are trying to bring a bygone musical culture - the Ottoman one - into modernity.
The next gathering in the When Byzantium Was Usseries will take place on October 28th, when the band Anatoliafrom Turkey will perform music from the Ottoman period on the stage of the Romanian Cultural Institute. The concerts will continue to be presented by Constantin RŃileanu, the leader of the old music band Anton Pann.
Andreea Chiselev
Translated by Oana Badea
MTTLC, University of Bucharest