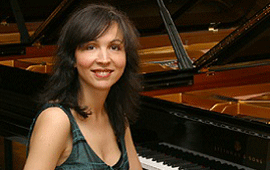 Luiza Borac - a matchless interpreter of Franz Liszt's music
Monday, 10 October 2011 , ora 11.15

On October 8th all the lovers of Franz Liszt' music crossed Bucharest despite the rainy weather in order to go to the Radio Concert Hall and take part in an extraordinary piano recital. Luiza Borac, one of the most appreciated Romanian musicians that have gained international fame, presented at the Mihail Jora Radio Hall a programme dedicated exclusively to the work of Liszt, a composer born exactly two centuries ago. Broadcast live by Radio Romania Music, the recital was part of the project Franz Liszt 200 launched by the European Broadcasting Union and no less than eight broadcasting organisations across Europe expressed their wish to put it on the air.

We asked Liliana Staicu, the editor in chief of our radio station to tell us more about this project, but also about the participation of pianist Luiza Borac in it:
«Liszt 200 is a project launched by the European Broadcasting Union designed by this association to celebrate Liszt and not just in any old way, but by holding recitals and concerts suggested by the broadcasting organisations in the countries where Liszt gave concerts on his tours. It was only natural that Romania should not stay aside and Radio Romania Music made a proposal to Luiza Borac, who is acknowledged for her passion for Liszt' music and her unique manner of interpreting his music, to hold a recital.
We were pleased that she accepted; the recital will be broadcast on the Liszt Day of the European Broadcasting Union, on October 23rd, 2011, when, for almost 12 hours, a great part of the public radio stations will broadcast without interruption concerts and recitals of Liszt's music. Radio Romania Music too will take a part in this project on October 23rd, therefore I am inviting all our listeners to stay tuned. Our programme starts at 12.00 and it will include among others a part of Luiza Borac's recital which was broadcast live.»

The first part of the music evening included 7 lieder composed by Franz Schubert, which Liszt transcribed for the piano in a manner that emphasises the depth of religious feelings, in the well-known opus Ave Maria, and the fascinating world of the Norse legends, in works such as Der Erlkönig or Gretchen am Spinnrade. In the second part of the programme, pianist Luiza Borac performed only works composed by Franz Liszt: Venezia e Napoli from the collection Années de pèlerinage and Réminiscences de Don Juan.

A music portrait of the pianist, in the vision of composer Nicolae Coman, sounds like this:
«Luiza Borac is a pianist with an extraordinary affinity for Chopin and Liszt's music and amazing performances of Enescu's music, who has offered us a recital of paraphrases of Schubert's lieder and a series of classic masterpieces and I leave crooning, delighted by this very, very beautiful evening.»

Critic Dumitru Avakian shared with us a few impressions about Luiza Borac's recital:
«The joy of listening to her playing is great; the fact that she turned her attention to Liszt's music has to do with circumstances and she enriches it through an always consistent artistic presence and a sparkling piano performance. All of these completed by Schubert's works which were transcribed by Liszt, one of the promoters of his contemporaries, but also of his predecessors, and what Luiza Borac accomplishes by presenting this transcriptions is a synthesis between the melodic, vocal sounds of Schubert and the piano show of Liszt.»

Luiza Borac, a matchless interpreter of Franz Liszt's music, impressed her audience through translucent sonorities and the melodic, almost vocal quality that she emphasised in the lieder from Schubert's work transcribed by the Hungarian composer, but also through the character, sometimes evocative, sometimes tensed, revealing the anxiety of an interior struggle, that she imprinted on his works.
If Luiza Borac's recital could be compared to the Greek antic legend of the maize in which the Minotaur was living, then the pianist would be Theseus, who is looking for the exit using Ariadne's string, in this case real music. Because art is the search before answer.
Alexandra Cebuc
Translated by Raluca Mizdrea and Stela Cucu
MTTLC, Bucharest University