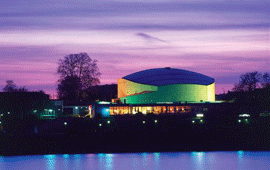 Beethovenfest - one of the festivals of this autumn season
Tuesday, 11 October 2011 , ora 12.02

The Beethovenfest is organised every year, this year, between September 9
th
and October 9
th
in Bonn, the place where Ludwig van Beethoven was born in 1770. The Beethovenfest is a project that with every year that passes by becomes a greater part of the German people, of those who live in Bonn and Cologne or even in smaller towns, considering that the festival is being celebrated in no less than 25 different concert halls.
44 500 tickets were put for sale for the 2011 edition at an average price of 46 euro, out of which more than 88 percent were sold, which is obviously a success achieved by the organisers, given the fact that the German government covers only 32 percent of the total sum of money necessary for putting on this event.

Here are a few general ideas about the BeethovenfestBonn taken from the interview which the Beethovenfest director, Ilona Schmiel, granted to Radio Romania Music:
'If the patron of the festival were still around us...'
'I think Beethoven would have happily participated in such a festival. I do not want to boast about what I have done in the last 8 years, but I am sincerely convinced that the festival has reached a point in which is capable of attracting young people as well as people who know a lot about music, who have listened to anything that could be listened to.'

This year, the list of protagonists included Romanian performers or composers. For instance, people listened to Prelude a l'unisson byEnescu performed by the Budapest Festival Orchestra and conducted by Ivan Fischer.

'Enescu is not a familiar name around here, but he wrote wonderful music and the public discovered something new. Mihaela Ursuleasa performed Concerto No. 1by Franz Liszt wonderfully and so did Mihaela Martin, who lives in Bonn with her husband, Frans Helmersson.'

One of the protagonists of the festival was the Fanfare Ciocârlia, which held not only one but two concerts.

'These gypsy bands are something that I like very much. I heard the Fanfare Ciocârlia playing on a street in Budapest by pure chance: I was walking on the street, heard them and asked myself - who are they? Including a group like Ciocârlia in a festival like Beethovenfest has to do with the diversity of the audience. What I like about the Fanfare Ciocârlia is their energy and strength, their complete freedom of writing music, without any barriers, without any complicated philosophy. It is the same energy that you feel when listening to the Simon Bolivar Youth Orchestra of Venezuela.'

Accurate performance, nothing out of the ordinary
I think that the first recital I attended lacked precisely that energy and enthusiasm. It was held by pianist Murray Perahia on October 6th at Beethovenhalle. Murray Perahia, who was not in the same good shape as he was in Bucharest, performed works by Bach, Beethoven, Brahms, Schumann and Chopin. It was an accurate performance given by a pianist who maybe was not having one of his best days.
The second day, on October7th, I took part in something that could have been called an experiment: the repeatition of the second day programme of a concert held at the first Beethovenfest and organised by Franz Liszt in Bonn. August 12th, 1845, was the day when a concert that today might seem totally unusual was held: we listened to Coriolanus Overture,Symphony No. 5, a quartet from Fidelio, an aria from the oratorio Christ on Olive Mountain, Quartet Op. 74 and Piano Concerto No. 5. More than three hours of music performed by ensembles specialised in historical performance practice: Concerto Köln conducted by Ivar Bolton, the conductor of the Salzburg Mozarteum Orchestra, a group of young performers, among them soprano Chen Reiss, the Pleyel Quartet, with a rather dull version and intonation problems, performed the String Quartet No. 10 (Harp). Finally, I could admire pianist Alexander Melnikov in Piano Concerto No. 5 in E flat major, Op. 73 (Emperor Concerto). Melnikov played the work on a fortepiano built in 1815 - for the contemporaries - a rather frustrating performance because a fortepiano, as we all know, does not produce the same sounds that an ordinary piano does or have the same expressive range. Moreover, the orchestra did not master the score either, but for the sake of the history and for those who love such remakes, the concert could be seen as an event.

Captivating main guests, irreproachable organisation
However, I attended only two concerts, not enough for me to develop an objective opinion about the entire festival whose main guests were, for instance, the London Symphony Orchestra and the Israel Philharmonic Orchestra conducted by Zubin Mehta, the protagonists of the George Enescu Festival. An irreproachable organisation and a wonderful place on the bank of the Rhine, where one of the greatest composers of the world was born, Ludwig van Beethoven.
Cristina Comandașu
Translated by Raluca Mizdrea
MTTLC, Bucharest University