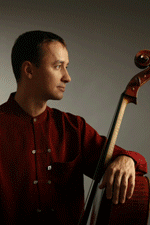 Răzvan Suma and Filip Papa - Quadrate Success!
Thursday, 13 October 2011 , ora 11.22

«From Vivaldi's contemplative and very lively style, it is not very hard to make the transition to Handel - whose style is more languorous in melancholic moments, whereas during lively moments, it resembles fireworks.»
These words uttered by the cellist Filip Papa - one of the two soloists who opened the Radio Concert Season 2011-1012, on evening of the 12th of October, - described the character of the two concerts for cellos and orchestra, which he performed together with Răzvan Suma - a very appreciated young musician at present. Accompanied by the members of the Radio Chamber Orchestra, the two of them shared the stage of the Radio Hall, in order to perform their own version of certain opuses created in the musical baroque by two of the most notable representatives of this period: Antonio Vivaldi and George Frideric Handel.
After this first collaboration, Răzvan Suma described Filip Papa as being: «…a fantastic artist, a complex musician - let's not forget that he is part of the quartet that is considered to be the best quartet in Romania, Ad Libitum; unfortunately, at the moment they are bereaved over the death of Adrian Berescu, but I am confident they will come back, even more spectacular.»
Being asked if he will collaborate next with the cellist Filip Papa, Răzvan Suma stated: «Of course, we have already planned some concerts in Iași, Cluj-Napoca and Timișoara.»
The programme of the evening - an interesting mixture of baroque and contemporary music
Conducted by Gian Luigi Zampieri, the concert started with spectacular sonorities, reminding us of the film music composed by Ennio Morricone, sonorities of a work by the Italian musician and performed by the Radio Chamber Orchestra in first audition: Non nobis Domine, the Portrait of Jacques de Molay - where its descriptiv-dramatic style alternated with soloist interferences of the horn.
As for the order in which they decided to perform the Concertos for two violoncellos and orchestra in G minor by Antonio Vivaldi and C major by George Frideric Handel, Filip Papa confessed: «We chose to start with Vivaldi, a classic representative of the Baroque, whose accompaniment was written by himself; Handel, as you know, has a more elaborate accompaniment and also closer to the present day, written by Alfred Alessandrescu, that is why we chose to sing it in the second part of the programme.»
Răzvan Suma and Filip Papa performed two different scores from a stylistic aspect, and although they belong to the same musical period: both Vivaldi's concert and Handel's concert are based on baroque elements such as chaccone and fugue - based on imitation, chain of sequences, ostinato formula or the chromatic gait downwards. And if the slow parts of this musical works painted - through melancholic sonorities - images inspired from autumn, the final parts compensated through a festive atmosphere, worthy of the opening of a musical season.
Opinions at the beginning of the season
I asked the cellist Marin Cazacu, the professor of one of the evening's soloists, to put together a conclusion of it: «It was a pleasure to listen again to the two concerts by Vivaldi and Handel - the latter is a transcript for two cellos. The two soloists demonstrated that they are redoubtable musicians, gifted with technical qualities, temper and sensitivity - and they knew how to cultivate the two compositions stylistically; I was also impressed by Gian Luigi Zampieri's work. A happy debut of the Radio Chamber Orchestra in this new season, which I foresee lively and attractive for the audience in Bucharest.»
Alexandra Cebuc
Translated by Elena Enache and Oana Badea
MTTLC, Bucharest University