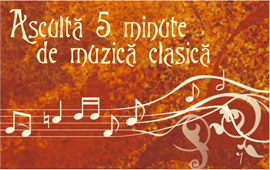 Listen to five minutes of classical music
Wednesday, 19 October 2011 , ora 10.45

How many people nowadays actually find respite to listen leisurely to a music record, let alone to go to a live concert? Unfortunately, the answer is: not so many.
For this reason, Radio Romania Music, along with its partners, has decided to bring quality music to the most unconventional places, such as: hypermarkets, malls, schools, public transportation and the list can go on. And indeed, starting last autumn, the campaign "Listen to five minutes of classical music", a project that has now reached its third edition, has been in progress.
On Thursday night, October 13th, we went to the Cora Hypermarket in Berceni. In the normal ambience of a store, the sound of classical music managed to stir the interest of those present, who momentarily forgot their affairs and took the time to listen. Thus, without realizing it, they became an ad-hoc public.
Here are some of the reactions of those present:

•
Have you noticed the change in music? It is a project of ours. It is called "Listen to five minutes of classical music".
It is a great initiative and it should be promoted in as many places as possible. The music is soothing and, even if we don't get a chance to go to the concert hall very often, at least, it is worth listening to it after work.

•
What do you think of this idea?
It is a very good idea. It is very nice. Especially after work, when you are in need of relaxation. It is a wonderful initiative. If you take into consideration the fact that people have little spare time to go to concert halls and, apart from the ticket prices, the idea seems quite extraordinary. At the end of a working day, such ambience and music are more than welcome.
Radu Mihalache
Translated by Luisa Alexandrescu and Elena Daniela Radu
MTTLC, Bucharest University