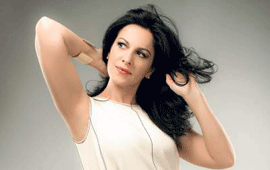 Angela Gheorghiu - guest of honour at the Bolshoi Theatre Gala in Moscow
Friday, 21 October 2011 , ora 10.32

Bucharest National Opera started at the end of September 2011, a session of live transmissions of some of the most successful enactments belonging to the most important opera houses in the world. This way, music lovers may enjoy extraordinary performances and admire - in terms of high broadcast quality - some of the most valuable opera singers in the world.

The public - witness to important events
The third broadcast, scheduled for October 28th, will transform the Romanian audience into a witness to an especially important event in the international artistic world: the reopening Gala of the Bolshoi Theatre in Moscow, after an impressive rehabilitation and modernization project started in 2005. The event will also be attended by the Russian President, Dmitry Medvedev, who actually oversaw the entire project.
For the Romanian audience, the Gala will also mean the reunion with Angela Gheorghiu, the famous Romanian-born soprano, guest of honour at the event. After the special invitation to Washington in December 6th, 2009, when she interpreted with huge success two arias at the Kennedy Honors Gala, where president Barack Obama attended and also numerous Hollywood stars, the soprano will enjoy a new meeting at the highest level. Placido Domingo, Natalie Dessay and Dmitri Hvorostovsky are some of the important guests attending the Gala.
The event aims to reconstruct the impressive history of the institution established in 1776 (operating in the present building since 1824), the programme bringing together a montage of pictures which presents the rehabilitation of the building, a parade of the sceneries created by the grand theatre designers, known opera or ballet extracts. The Gala will conclude with a presentation of the entire theatre company. The director of the event is Dmitry Chernyakov with the artistic director being Vassily Sinaisky. The Bolshoi Theatre soloists, Ballet Company and orchestra will attend.

Other information regarding the event
The broadcast will begin in Romania at 5pm. The ticket price is 45 lei. Tickets can be purchased at the BNO ticket office, Monday to Sunday, 9am to 1 pm and from 3pm to 7pm or online, on the official site of the institute: www.operanb.ro.
As to the rest of the country, the event can be viewed in Timisoara - the Auditorium of the 'Eugen Todoran' Central University Library and in Sibiu - Habitus Cultural Centre. The series of live broadcasts organised by the Bucharest National Opera will continue with performances produced on some of the important opera house stages in the world, like Teatro Real - Madrid, Gran Teatre del Liceu - Barcelona, Arena di Verona - Verona, La Scala - Milan, etc.

Translated by Florina Sămulescu and Elena Daniela Radu
MTTLC, Bucharest University